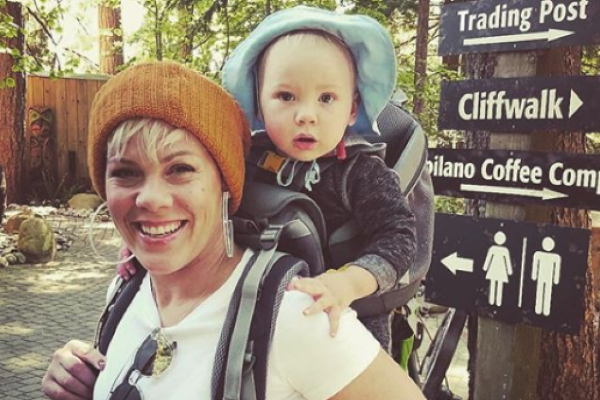 Just last week, Pink announced to the public just how tough it has been for her and her family on the road.
The mum has recently been touring Australia and posted about her forced decision to postpone a concert due to her and her children's illness.
"What these parasite paparazzi don't show you, is two doctor visits in Byron on two consecutive days, antibiotics, steroids, Vick's, nose spray, throat spray, more steroids, NyQuil,
"A screaming baby in the middle of the night, every night, while mama gives him warm baths and tells her daughter everything is fine."
The rockstar explained how physically demanding her show has been and that she was "doing the absolute best" she could.
Pink, once again, tried to push through the pain and sickness to deliver fans the amazing, jaw-dropping performance they have been waiting for.
However, this time she may have pushed herself too far.
The singer was rushed to the hospital just 20 minutes before she was due to leave for the concert's soundcheck on Monday due to "excruciating pain".
According to Live Nation, the mum was admitted and treated for severe dehydration on Sunday. Then was forced to return to the hospital the next day, just before her scheduled concert.
She was then diagnosed with a gastric virus and admitted for treatment until her hospital release last night.
Pink explained how physical her performances are: "I flip, dance, fly, harness, silk, and scream my way through a total shit show of awesomeness (no pun intended).
"I think all of you deserve the full show and me at my best. Our next show will be Saturday, and until then I will be drinking green tea, and spending time with my kids."
Pink continued to warn fans that she will probably be caught on camera by the paparazzi and to not misconstrue spending time with her kids as lying about her illness.
"I'll try to control the smiling," she quipped to the out-of-control tabloids that may contort her family time, clearly upset at the previous way they handled the situation.
The mum seems to feel immense pressure to 'act normal' in front of the cameras with her kids, to the point where she must mention the possibility of feigned happiness in photos.
The singer was absolutely heartbroken that she could not be there for her fans, but she needs to put her health first so she can continue to finish her tour.
She concluded, "thank you for your patience, compassion, and support. I look forward to rocking out with all of you as we have done for many many years. All of my love."
The rescheduled concert dates will be announced later today.
We hope the singer and mum continues to recover smoothly. She is a complete rockstar on stage and for pushing through her health issues for her fans.