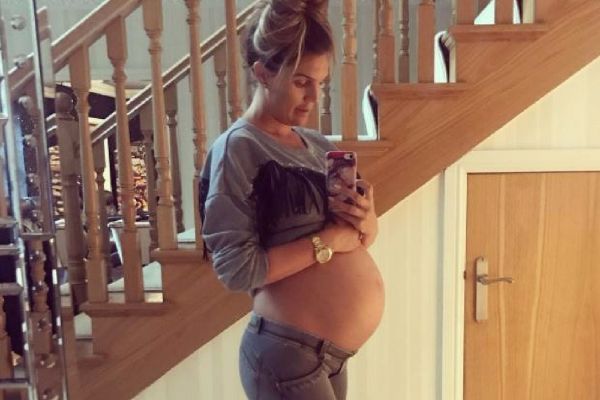 Pregnant Danielle Lloyd has admitted the thought of her postnatal depression returning scares her.
Danielle, who is due to give birth to her fourth son in August revealed that she turned to alcohol in the past when suffering from post-natal depression.
She admits she "drank herself into oblivion" following the premature birth of her second son Harry, who was born ten weeks early in 2011.
Danielle explained that Harry had to spend seven weeks in hospital which she found incredibly hard. After the birth, Danielle needed an emergency blood transfusion after doctors discovered a blood clot behind her left breast implant, according to The Sun.
The trauma of these events caused Danielle to become severely depressed and she drank heavily to "block it out".
"I pray (postnatal depression) won't happen again because I realise now my baby needed me and I wanted to take care of him," she said.
"But instead I was drinking myself into oblivion to cope with the trauma and the guilt of what was happening.
"I was in a really bad way. I couldn't comprehend what was ­happening to Harry. I started drinking a lot to try and block it out.
"I felt detached from the baby. Numb, almost zombie like, I was non-existent. Every day was a struggle to get up," she admitted.
The heavy drinking did nothing to alleviate Danielle's feelings of depression but thankfully she was able to seek help from a therapist.
"My therapist told me drinking alcohol is what many people turn to when they have depression," she explained.
Danielle now has a plan in place to deal with post-natal depression if she finds herself experiencing it again.
She said: "I'm in a much better place now. I'll do everything in my power to stop it but I am afraid of going down that same road.
"All I can do is hope I don't get it," she added. "If I do I know what to do. Go to my doctor, talk to Michael, talk to my family and tell them how I'm feeling."
The former glamour model revealed that her baby is in breech position, which means she may need a C-section. On top of that, her mum Jackie has been diagnosed with the painful chronic condition fibromyalgia.
We wish Danielle all the best with the rest of her pregnancy and the new arrival.