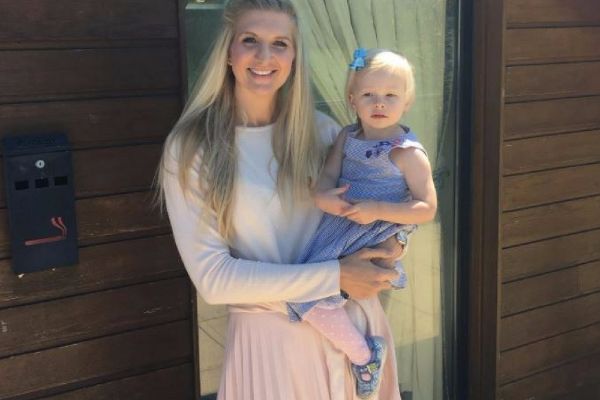 Olympic swimmer Rebecca Adlington says becoming a mother to two-year-old Summer has changed both her priorities and outlook on life.
28-year-old Rebecca says that staying fit and healthy are still important to her, but mainly because she wants to set a good example for her daughter.
"I feel less pressure, actually," she told The Mail Online. "My priorities have changed. My priority is Summer, and I want her to see her mum being healthy and keeping fit. I want to be that role model for her.


Rebecca tries to lead by example, by teaching Summer how to live a healthy lifestyle from an early age.
"I do a little workout with her and try to cook with her, etc. Getting back in shape after birth was more about getting my body back so I can do the things I want, and be healthy.
"I'm proud of my stretch marks,' she added. 'It shows I've had a healthy pregnancy, I think."
"I've let a lot of the petty things go," she remarked, regarding her approach to life since becoming a mum.
Although Summer is only two, Rebecca worries about how social media use will impact on her daughter when she is older, particularly the effect it might have on her body image.
"I'm now more worried for Summer," she explained, adding that seeing negative comments on social media about herself 'definitely used to' affect her self-esteem.
"Obviously, she is only two, so it's a long time before she is using social media. But as a girl, I do worry about everything she will still have to go through.
"I just want to be as honest and as real as I can be with her, and help her through it."


Rebecca is single these days after splitting from Summer's dad Harry Needs, whom she was married to for two-and-a-half years.
However, the young mum isn't focused on meeting anyone special right now, as she says she "hates all the games when it comes to dating".
A proud Rebecca revealed that Summer loves the water and is enjoying learning to swim. "Summer has been having (swimming) lessons for a couple of months now," she explained.
"She got her first badge the other day, I was a very proud mum. She can't properly swim or anything, but I love seeing how happy and confident she is in the water.'

Keen to encourage enjoyment over success, Rebecca added: "She loves it, that's the main thing."