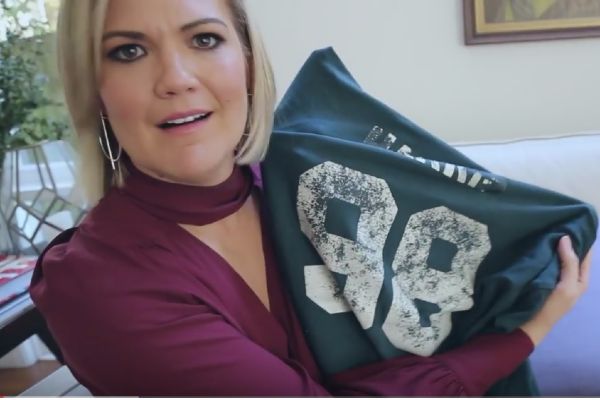 TV presenter Sarah Harris had some words of wisdom for an anonymous caller on her TV show, Women's Weekly, this week.
The caller explained that her co-workers say unkind words to her about her baby bump, and she wasn't sure how to handle it.
"I'm 33 weeks pregnant with my first child. My work colleagues embarrass me by saying things like: 'You look like you're going to explode' and 'You're going to regret everything when you're pushing that baby out'," she said.
"They've made comments about my decision to find out my baby's sex and my choice of name. How do I respond without being rude?"
Although the question was intended for fellow TV panelist Ita Buttrose, Sarah answered her question.
"It's funny, because when you're pregnant, people feel like they can say anything to you, particularly about your size, which is always fun when you're hormonal and tired," said Sarah.
"When people talk to you about your size, you can say, 'Well, I might be fat, but in nine months' time, I'm not going to be pregnant, and you my dear, will still be ugly.'"
Sarah's response was greeted with a ruckus of laughter.
"And then, turn on your heel and go and get yourself a donut, because you deserve it!" she added with a wink.
Sarah took inspiration from Winston Churchill's famous quote: "My dear you are ugly, but tomorrow I shall be sober and you will still be ugly". The former British Prime Minister was known for his quick and witty comebacks.
Like the anonymous caller, Sarah is no stranger to body-shaming comments.
Don't forget tomorrow is Red Nose Day. Buy a nose, save a life. pic.twitter.com/9BexrglQwP

— Sarah Harris (@SarahHarris) June 29, 2017
"Some of them were just revolting. Having a go at how huge I am, how 'fat' I am, how ugly I am. When you're pregnant, you do feel very vulnerable and self-conscious about your body. And it did feel pretty awful about the comments and the pictures," she said, according to Mama Mia.
"On behalf of all the pregnant women out there… I want to say to the haters - get stuffed."
Sarah has been a long-standing advocate for body-positivity
"My body is different now! There are jiggly bits and flat bits now, and cellulite bits; but I don't look at it with disdain, I look at it like a badge of honour now," she said.
The Aussie TV personality has one kid, and another one on the way.