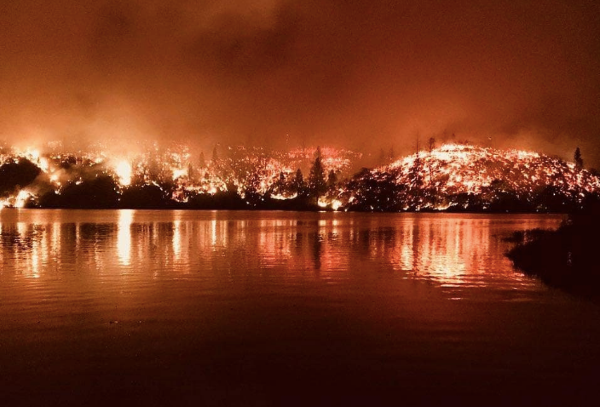 A wildfire that broke out in a Northern California city has claimed two lives and destroyed at least 500 structures, say officials.
A mum-of-two was amongst residents attempting to pack up and flee to safety.
Liz Williams told Press Association: "I've never experienced something so terrifying in my life."
Devastation on Moonstone Way and Harlan Drive in Lake Redding Estates. The home next to this one was untouched. #CarrFire pic.twitter.com/pL0wKhkwjb

— Eric Shackelford (@ABC7Shack) July 27, 2018
The mum had packed up the car with her two children but soon found herself in bumper-to-bumper traffic with neighbours trying to escape from Lake Redding Estates.
"I didn't know if the fire was just going to jump out behind a bush and grab me and suck me in," Ms Williams said. "I wanted out of here."
The blaze had burnt its way across the wide Sacramento River and torched subdivisions in Redding, a city of 92,000 about 100 miles south of the Oregon border, according to Breaking News.
In its wake, 500 structures have been torched and another 5,000 were at risk yesterday.
EVACUATION ORDERS - PLS RT !!!!
Mendocino County Sheriff's Office is issuing new MANDATORY EVACUATIONS for #RiverFire in the Hopland area.
Affected area is south of University Road to Highway 175 and east to the Lake County Line pic.twitter.com/peyTVZm3ni

— Mendocino Sheriff (@MendoSheriff) July 28, 2018
Neighbourhoods smoulder as 37,000 people were given orders to evacuate.
Fresh evacuation orders were given by officials this morning for the Hopland area.
The Los Angeles Times reports that Redding police chief Roger Moore was among those who lost their homes.
Firefighters had no choice but to abandon efforts to fight the fire at one point and refocus their attention to help people escape as the flames moved so rapidly.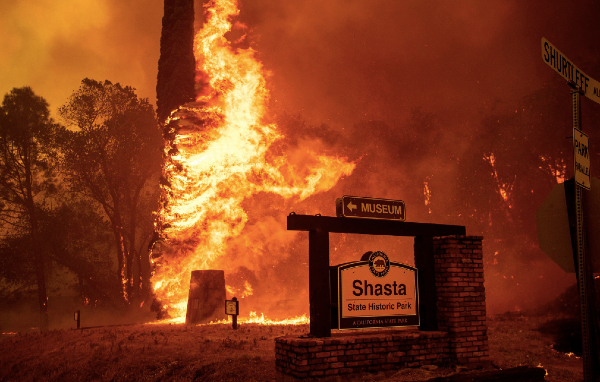 The fire caused at least two flaming tornados that took "down everything in its path," said Cal Fire spokesman Scott McLean.
Urban areas are on alert as fire officials say the blaze is likely to burn deeper into the area before they had a chance to contain it, or it changed direction, reports Breaking News.
The source of Monday's fatal fire was caused by a mechanical issue involving a vehicle, say officials.
On Thursday, the fire became deadly as flames swept through the historic Gold Rush town of Shasta and nearby Keswick, then jumped across the Sacramento River into the banks of Redding, according to Breaking News.
Our deepest condolences to the loved ones of Fire Inspector Jeremy Stoke & the entire @reddingff_1934 as they mourn the loss of one of their own. Jeremey died while battling the Carr Fire in Shasta County. Please keep Jeremy's family, friends & colleagues in your thoughts pic.twitter.com/4jGlxJrKxt

— CAL FIRE (@CAL_FIRE) July 27, 2018
Jeremy Stoke, a Redding fire inspector lost his life in the wildfire, no details have been released about his death.
Another firefighter whose name hasn't been made public was attempting to contain the fire with a bulldozer when he lost his life on Thursday.
He was the second bulldozer operator victim in a California blaze in less than two weeks, reports Breaking News.
Stay safe Redding friends.

The #CarrFire is absolutely horrifying. It's just jumped the Sacramento River and now is burning in my hometown. It's 6% contained. The flames are strong enough that it's generating it's own wind and tomorrow is going to be 113 degrees. pic.twitter.com/8EOtArENEX

— Air Budz (@colbydroscher) July 27, 2018
Redding fire crews are now concentrating on saving lives, rather than tackling the flames.
"We're not fighting a fire," said Jonathan Cox, a battalion chief with Cal Fire.
"We're trying to move people out of the path of it because it is now deadly, and it is now moving at speeds and in ways we have not seen before in this area."