Pamela Anderson has been getting candid about her personal life!
The former Baywatch star has got a lot to say, as proven by the upcoming releases of both her memoir Love, Pamela, and her Netflix documentary, titled Pamela, a love story.
In an excerpt of her book obtained by People, Pamela details her infamous marriage to The Mötley Crüe's Tommy Lee.
Despite the couple's eventual divorce, the 55-year-old admits that, in actual fact, Tommy was her one true love.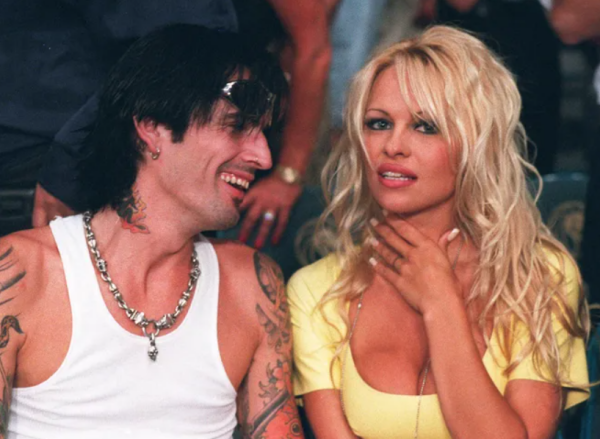 "My relationship with Tommy may have been the only time I was ever truly in love," Pamela writes. "We just wanted to have babies and be together forever."
The couple wed in 1995 on a beach in Cancun. However, despite the constant invasions of their lives by paparazzi, the couple still found ways to be free. "We had fun, and our rule was no rules," Pamela teases.
Pamela admits that the pair's 'sex tape' scandal - which occurred in 1996 after personal tapes were stolen during a break-in - was the beginning of the end for her marriage.
"It ruined lives, starting with our relationship — and it's unforgivable that people, still to this day, think they can profit from such a terrible experience, let alone a crime," Pamela ponders.
In the following months, Tommy began to turn violent on both Pamela and their two sons, Brandon and Dylan, and his change in behaviour led the actress to file for divorce.
"The divorce from Tommy was the hardest, lowest, most difficult point of my life," she admits in her autobiography.
"I was crushed. I still couldn't believe that the person I loved the most was capable of what had happened that night," she adds, referring to a particularly horrifying incident where both she and Dylan were injured by Tommy. "We were both devastated, but I had to protect my babies."
Thankfully, Pamela later confirms that she and Tommy have a much healthier relationship now, and they make sure to "check in, every once in a while."
"Tommy is the father of my kids and I'm forever grateful," she reveals.
More details will be shed on Pamela's life and career when both Love, Pamela and Pamela, a love story are released on January 31.