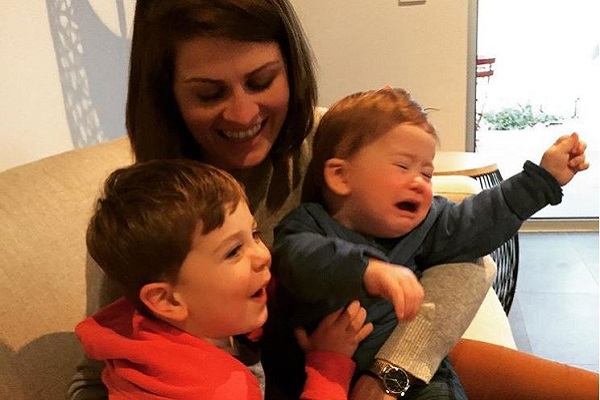 Mum-of-two Sara Chivers was distraught when her doctor told her that she had terminal brain cancer. There was nothing they could do for the distraught mum.
The 34-year-old has written a final letter full of words of wisdom for her two sons, Hugh and Alfie. She hopes her words will guide them through the days when she is no longer around.
The emotional letter to 18-month-old Alfie and three-year-old Hugh was published by The New Daily.
Prepare yourselves, mums; this letter will leave you in floods of tears.
Sara wrote, "I won't be around to see you grow up. It's a hard thing to say and even harder to face."
The mum told her boys that they will have to find out special details about her from other people, "Winter is my preferred season. I wish I was a better cook. I'm a keeper of mementos – tiny hospital name tags."
The mum knows her support network will keep her alive for as long as possible, but she needed to share these words with her sons.
"Love hard. As they say, it is better to have loved and lost, than never to have loved at all," said the mum.
She told the youngsters that they are her biggest and proudest accomplishments.
She encouraged her sons to follow their dreams and to try different things, "There is so much more to school life than textbooks. Play team sports. Try a musical instrument. Learn a language."
She told the boys to always put family first, and to look out for their dad, "Be kind to your Dad. It won't be easy for him raising you alone, but every decision he makes will be in your best interests at heart."
The mum informed her sons that there will come a day when their dad will move on and find a new love, "Accept and embrace his choice, and know she will be a positive female influence in your lives too."
Sara warned her boys that they will fall out with people, they will lose friends, but that's a normal part of life, "You will have friends for a season, friends for a reason, friends for life. It won't take too long to work out which ones fall into which category."
Even though she won't be there to see her boys grow up, Sara advised them to follow their dreams, even if they seem impossible, "Never fear failure – you will learn more from mistakes than successes. There's never anything more certain than change so embrace it."
Her final words have broken our hearts. Sara shared how much Alife and Hugh's dad meant to her, "Without him beside me I would have crumbled."
She continued, "I will be forever grateful for the time we spent together, the memories we created, the love we shared. It was always him. Always will be. Love, Mum."
Pass the tissues, please.