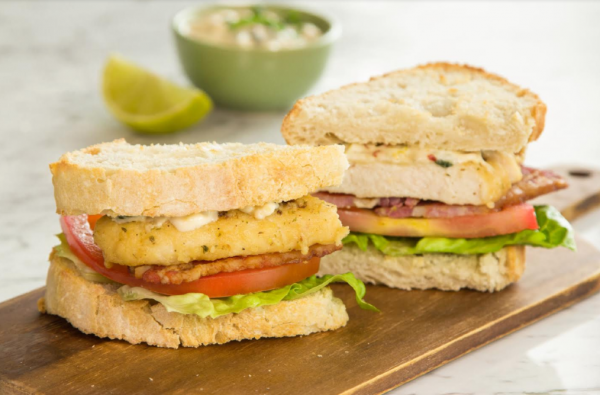 Who doesn't love a good mojito?
Even just that minty smell brings me right back to those days where every night was a potential Saturday night. We would doll ourselves up and hit the town, clip-clopping our way around the various hot-spots, sipping on cocktails and thinking we were the most sophisticated people in the entire world.
Cut to these days, and the most sophisticated part of my day is the decision to wear jeans instead of leggings.
But luckily, we can still channel our inner Carrie Bradshaw through other routes (mainly through my obsessive expensive shoe habit). There may be an easier way to recreate those throw-back moments with your gaggle of girls. Enter this mojito-inspired chicken sandwich. A zesty plate of deliciousness that is ideal for rustling up for a weekend brunch with the girls, or even for those lunches with your girlfriends (that end up turning into dinners!)
It is super simple to make and versatile enough to also make it onto your weekly meal planner.
What you'll need for the sandwich:
1 Birds Eye Original Chicken Chargrill
2 slices of streaky bacon
Baby gem lettuce
¼ beef tomato, sliced
2 slices of sourdough bread
What you'll need for the sauce:
2 tbsp reduced fat mayonnaise
Juice and zest of ½ lime
4/5 mint leaves, finely chopped
⅛ tsp red chilli flakes
What you'll do:
Cook the Birds Eye Original Chicken Chargrill according to package directions. Meanwhile, cook the bacon until crispy. To make the sauce, add all the ingredients to a small mixing bowl and stir. Next, you can toast the bread, then spread the sauce on both sides. On one slice, place the salad leaves, tomato slices, crispy bacon, then the sliced cooked chicken. Finally place the other slice on top and press slightly.
Now, cut it in half and enjoy!
A wonderfully fresh take on a classic, this mojito-inspired chicken sandwich is the perfect fuel for those catch-up chats (that are usually LONG overdue) with your #mumsquad