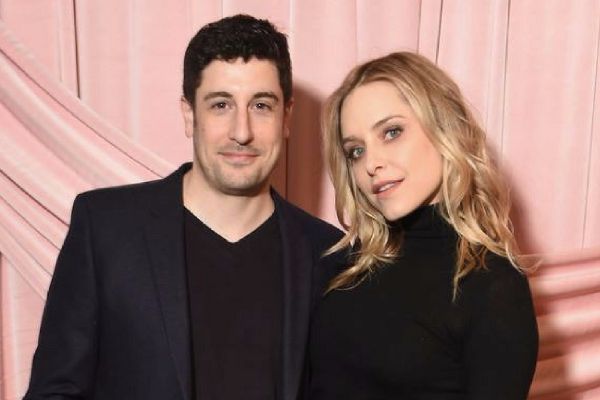 Jason Biggs and his wife Jenny Mollen are expecting again and are very excited about their new arrival.
Jenny, 38, shocked her followers when she showed off a slightly risqué baby bump photo on Instagram.
In the photo, the mum-to-be posed for a selfie wearing only nude underwear while Jason stood behind her covering her breasts with his hands.
"39 weeks", she wrote alongside the snap. Last week, she posted a photo of herself completely nude, showing off her blossoming bump.
Fans had mainly positive feedback to offer on Jenny's impromptu pregnancy photoshoots.
"You look smoking hot", one fan complimented her while another said: "If I had looked like that when I was 39 weeks pregnant I would have gone to the grocery store wearing nothing but underwear!"
Meanwhile, others just wanted to know for sure whether it was Jason standing behind her.
Jason and Jenny already have a three-year-old son named Sid and announced that they were expecting a second baby in February.
Taking to Instagram, Jenny shared a funny photo of the couple sitting in bed, with a baby's nasal aspirator attached to Jenny's mouth and Jason's nose.

"This is how I told my son babies are made," she wrote, followed by the hashtag #numbertwo.

In June, Jenny revealed that she's suffering from a condition called placenta previa and explained that this means she may have a c-section.
Placenta previa is a condition where the placenta partially or fully covers the cervix - therefore affecting normal delivery.
"It actually hasn't been a big deal so far because I'm so early," she told People.
"I had a C-section the first time because I never dilated, so I'm not that concerned because I expected to have to be cut open again".
When it comes to the issue of sibling rivalry, Jenny said Sid knows there's another baby on the way "in concept" but the reality of becoming a big brother hasn't sunk in yet.
"He still thinks it's a gift for him," Jenny explained.
"Like, maybe the baby's going to be made of chocolate or something. I don't think he realizes there's a major downside yet," she added.
Not long to go now – best of luck Jenny!