October is Breast Cancer Awareness Month, the annual international health campaign to increase awareness of the disease and to raise funds for research into its cause, prevention, diagnosis and treatment. Dublin Mum Teresa Costello who was diagnosed with breast cancer when she was 36 is calling on women to register for this year's Great Pink Run with Glanbia which returns a 10th year this October 17th and 18th and which raises funds to support Breast Cancer Ireland's pioneering research and awareness programmes.
With Fitbit as silver sponsors, the event will be virtual this year in recognition of social distancing protocols, with participants encouraged to run, walk, or jog either a 5k or 10k in their own local communities, that weekend.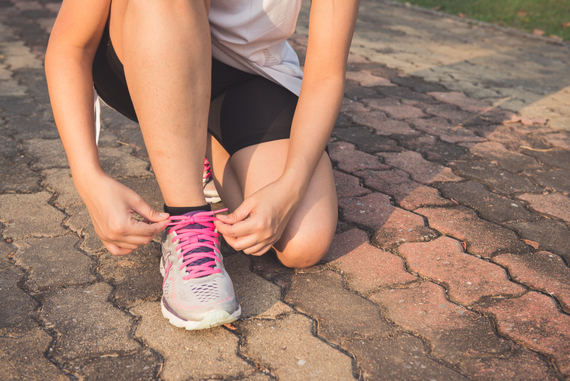 It is hoped that the event will attract thousands of women, men, and children from all over the island of Ireland, and further afield as this year's virtual event aims to turn the globe pink. The circumference of the globe is 40,700 km and the charity is calling on as many as possible to
register
. Everyone who registers receives a commemorative 10
th
Anniversary Great Pink Run T-shirt and medal as well as a face mask and a personalised race bib.
Teresa is also hitting a milestone this year, having taken part in the event for the past seven years.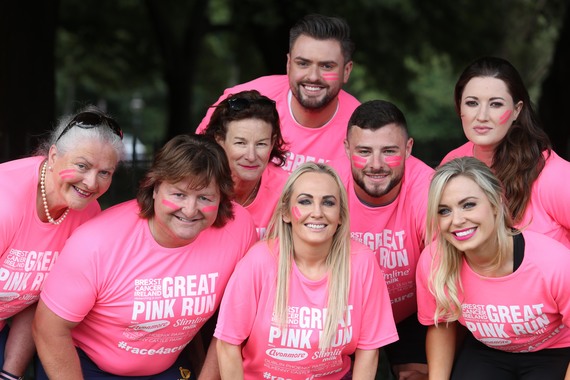 Teresa's diagnosis, she says, was a complete shock to her as well as to her family and friends. "I wasn't breast aware and I didn't check myself regularly – not at all, in fact. I found my lump by chance whilst having a shower. Taking into consideration my age, family history, fitness and lifestyle, my GP said he wasn't overly concerned. However, as a precautionary measure he referred me to St James's Hospital, Dublin, where upon examination, they found an additional two tumours."
What followed, says Teresa, was a whirlwind. "I embarked on a treatment plan that comprised chemotherapy and surgery – a mastectomy and clearance of lymph nodes with immediate reconstruction – followed by additional reconstruction and radiotherapy."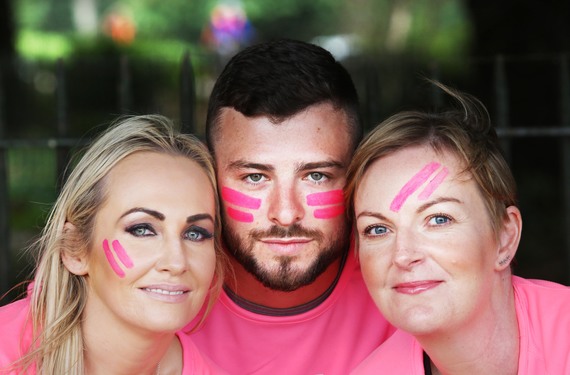 Having breast cancer was very traumatic not only for Teresa but also for her son and other family members. Thankfully, she is now back to full health. "My cancer was hormone-driven, and so I take a little tablet called Tamoxifen every day to help reduce my risk of a reoccurrence and this is why I am so supportive of the funds raised going into metastic disease. Before breast cancer stormed into my life, I am sorry to say I didn't take ownership of my own breast health. I was wrongly under the impression that breast cancer only happened to ladies in their late-50s and 60s."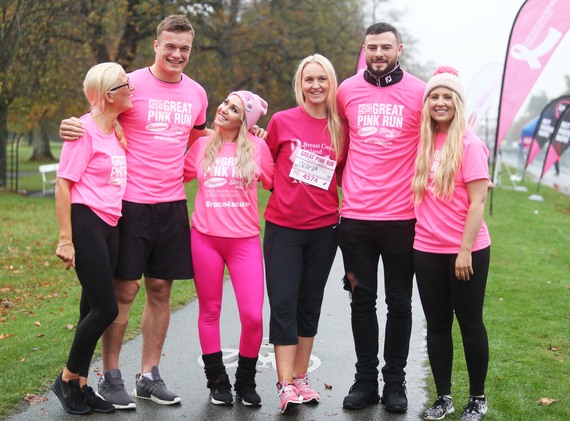 Being an Ambassador for Breast Cancer Ireland is an honour for Teresa, she says. "Advances in research and new medication saved my life and continue to keep me cancer-free. I'm actively involved in the Education and Outreach programme provided by Breast Cancer Ireland, working with women of all ages, from TY students and staff to women's groups, advising them about good breast health and the importance of knowing how to do self-breast examinations as well as the signs and symptoms to look out for. Awareness saves lives."
10,000 people took part last year alone in Dublin's Phoenix Park, for the first time overseas in Diversey Harbor, Chicago and also in Kilkenny Castle Park, where the event was supported by Aut Even Hospital, who are once again on board as associate sponsors for a fourth year.