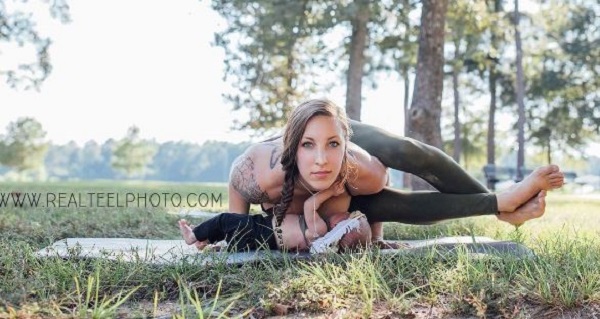 It is often said that women are great multi-taskers, and while we're more than competent at answering the phone while cooking the dinner and helping with our kids' homework, we're not a patch on Carlee Benear.
Carlee has attracted plenty of attention and followers over on Instagram, and all because of her unique approach to nursing.
The yoga fanatic, who has her own practice in her home, has astounded mothers everywhere by performing tricky yoga poses while breastfeeding her baby.
In one shot, posted just two days ago, Carlee is seen stretching her head back to her foot while she nurses her one-month-old; and in another, from later on that day, she's doing it with one leg on the floor and the other up in the air!
Carlee is also sure to share a profound nugget of life advice next to the photos, which have been praised by mothers all over the world.
"Hats off to you, Mama. You're amazing," wrote one very impressed follower, with others branding the images 'incredible' and 'stunning'.
While we're not sure we'd be giving this a try at home ourselves, it seems Carlee really is making motherhood work for her.
SHARE to inspire and amaze a fellow yoga-lover with these shots.