Believe in miracles! Inspired by skincare and mastered by Max Factor, the new Miracle Pure collection is the most natural and caring range released by Max Factor to date. Miracle Pure is vegan and eco conscious without losing out on quality. Not only do the products provide a radiant glow and natural coverage but they provide hydration for your skin. Packed full of beneficial ingredients such as Vitamin C, Hyaluronic Acid and Alfalfa Complex, the products in the Miracle Pure collection will help you get the perfect base along with that perfect, hydrated glow.
MIRACLE PURE SKIN IMPROVING FOUNDATION SPF30 (RRP €17.99/ £13.99)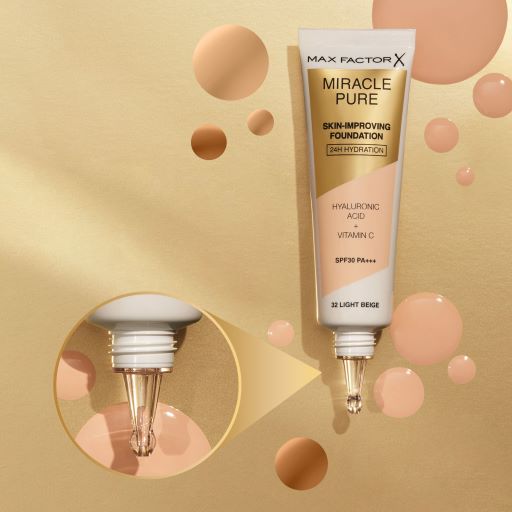 The new Miracle Pure Foundation is clinically proven to care for skin while you wear it. In just one minute and with just a drop it plumps your skin, letting your complexion benefit in five ways, with improved radiance, firmness, elasticity, density, and suppleness. The advanced formula is infused with 89% skin-care ingredients including, Vitamin C and Hyaluronic Acid, and provides 24 hours hydration. It's a skin-improving foundation that conceals and cares, and the advanced formula is clinically proven to give 24 hours hydration as well as improve skin texture after prolonged wear.
MIRACLE PURE CONCEALER (RRP €12.99/ £9.99)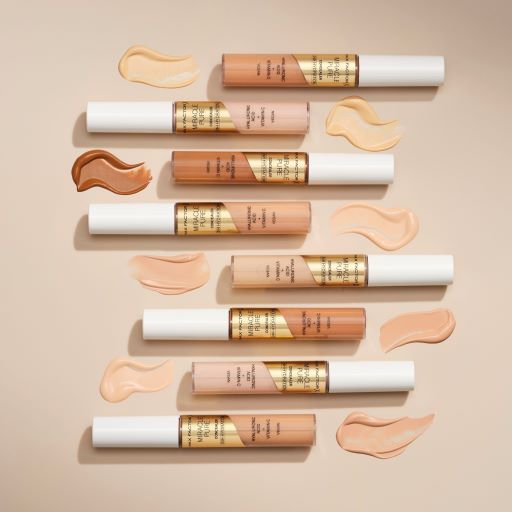 Miracle Pure Concealer is clinically proven to care for skin while you wear it. The lightweight formula contains hyaluronic acid, vitamin C and peptides. It gives medium, natural coverage and works perfectly on the face and under the eyes, providing crease-less, all day gentle coverage – illuminating, brightening and giving 24-hydration. Clinically and dermatologically tested, suitable for sensitive skin; with a super soft flexible and precise applicator. Available in 8 shades and designed to work in harmony with Max Factor's Miracle Pure foundation.
MIRACLE PURE CREAM BLUSH (RRP €12.99/ £9.99)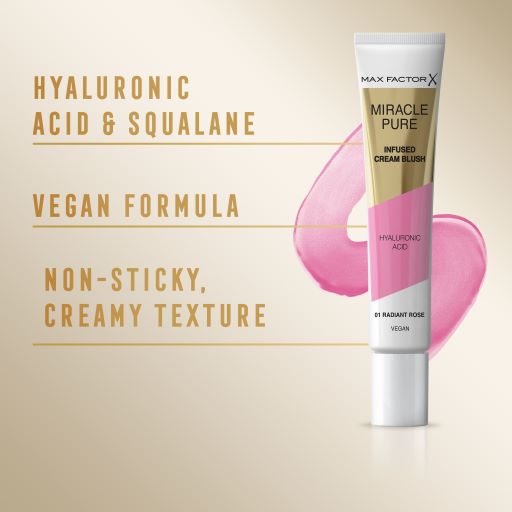 Get a flush of colour infused with care! Max Factor's Miracle Pure Cream Blush contains a moisturizing complex that plumps and hydrates while adding a buildable glow to your complexion. Infused with hyaluronic acid and squalane, the formula has a lightweight, creamy and silky texture that transforms skin, giving a day-long glow that also leaves the skin looking fresh and healthy. Available in 4 luminous shades to suit all skin tones. Cream blushes are a more recent favourite in the beauty community. With light ingredients that lead to a smooth finish on the skin, cream blush is always a great choice.
MIRACLE PURE NAIL POLISH (RRP €9.99/ £6.99)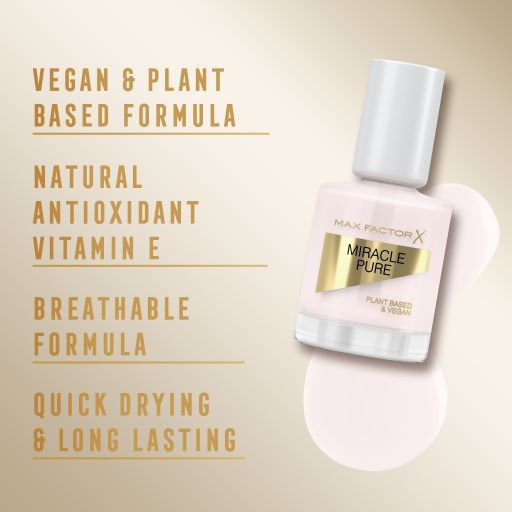 A miracle is at your fingertips! Max Factor Miracle Pure Nail Colour promotes healthy looking nails and gives vibrant colour with no compromise durability. The breathable 100% vegan formula is powered by plant-based ingredients, including mineral clay that promotes strength and natural antioxidant Vitamin E. Available in a range of shades, from deep red to calming pastels, Miracle Pure Nail Colour is quick-drying, long-lasting and gives a high shine finish whatever tone you pick.
Max Factor Miracle Pure is available in leading pharmacies nationwide.