Slánlus soothing salve developed by Margaret Lynch was brewing for some time. By being creative, lured by the gifts of nature onto the path of herbal medicine. Margaret stepped away from practising as a solicitor to pour energy and passion into her vision for a more sustainable, natural, green vibration and a better life.
The demand for the hand-crafted salves had been growing beyond family and friends so she took a deep breath and started the groundwork to bring the original offering, Slánlus, to the skincare market. Margaret Lynch is the creator and owner of her very own green offering for those who are in need of it, to experience the power of plants.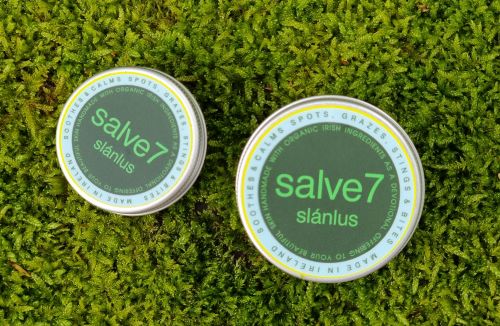 For all to know, Slánlus means the healing herb as Gaeilge. Say it, sl-awh-n-lus, say it like your Irish ancestors are listening! Peace & plants.
Slánlus has a unique concentrated formula tried and tested to soothe and calm spots, cold sores, grazes, stings, bites (Mosquito, Bee, Wasp and Jellyfish).
Unique Formulation
Unique concentrated formulation process.
The actions of slánlus are derived from the medicinal herbs used in its creation which operate to draw out impurities and support your skin as a powerful vulnerary.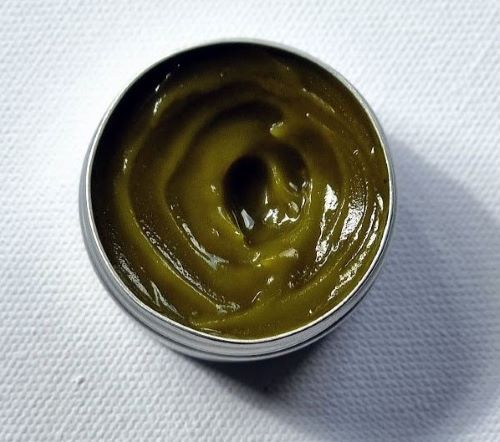 No Nasty Chemicals
Honesty of its four ingredients, all Irish, all organic.
Full compliance with HPRA, Cosmetic Product Regulations
Cult Product
The dabbing of the ubiquitous 'white creme' on spots is being replaced by this concentrated Irish organic multi-action nutritious green one.
For skin slugging enthusiasts, some preferring to call it a face mask. Whatever the name you choose, it leaves skin energised and profoundly nourished as it increases collagen production and reduces inflammation.
It has crossed many seas and continents as a trusty mosquito bite salve.
Sea swimmers are using it to avoid the after-swim-chafe & or course to relieve jellyfish stings.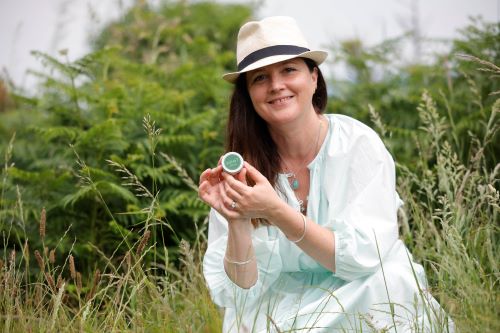 ACTIONS OF THE FORMULA
Slánlus is a concentrated soothing salve containing medicinal herbs that actively draw out impurities while also having a cooling emollient ability as it works with your skin to heal affected areas.
The herbal formula works quickly when applied to grazes as a styptic and a vulnerary, soothing the affected area.
It soothes and calms spots, acne and cold sores by drawing out impurities in the inflamed areas while working with your skin to heal.
If applied to a bee or wasp sting quickly (bee stinger removed), it will draw out the venom and soothe the sting area.
For mosquito bites - if applied promptly it will act quickly to draw out the venom and while its antihistamine ability will reduce the itching.
Apply it to your inner thighs or arms, it acts instantly as an anti-chafing barrier to skin-to-skin chafing.
INGREDIENTS
Organic Cold Pressed Rapeseed Oil
Packed full of antioxidant vitamin E; strengthening flavonoids which are moisturizing and protective; plant sterols which are replenishing and restoring; omega 3, 6, and 9 making it a superb anti-inflammatory which work together to both moisturize and protect the skin from external stresses.
Plantago lanceolata
This is an extraordinary skin healing medicinal herb which reduces irritation and inflammation. Its actions are two-fold; it draws out impurities and is a supportive vulnerary. It has astringent properties and antioxidant properties. It naturally stimulates collagen production and supports the skins natural healing processes.
Cera Alba, Beeswax
Apart from its treasured function to bring the ingredients together in solid form it has a protective and moisturizing properties for the skin.
Lavender
Used for its calming fragrance but is also abundant in anti-inflammatory benefits.
RETAIL PRICING
Slánlus 15ml: €20
Slánlus 30ml: €40
All products are available at selected retailers and online at: visit www.salve7.ie
AND FINALLY...
If you are wondering how to pronounce Slánlus, we've got you covered: sl-awh-n-lus, say it like your Irish ancestors are listening!