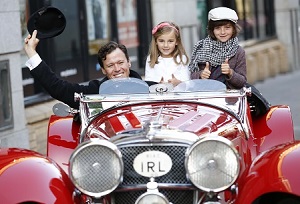 Motor enthusiasts attending this year's Irish Classic & Vintage Motor Show next month will be delighted to hear that not only can they look forward to a fantastic day out, but they will be helping to provide much-needed funds for a very worthy cause.
Each year, a charity partner is selected to benefit from the motoring extravaganza, and 2015's partners have been named as The National Children's Research Centre and CMRF Crumlin, the fundraising body for Our Lady's Hospital, Crumlin.
Organised by the Irish Jaguar and Daimler Club, the event has run for the past 23 years, with a percentage of proceeds from the tickets raised being donated to various different charity organisations.
Last year, the Irish Classic & Vintage Motor Show raised a staggering €30,000 for its chosen charity partners, and it is hoped that this sum will be exceeded when this year's event takes place on Sunday, July 5, at Terenure College in Dublin.
With €12 million needed to fund equipment and services at Our Lady's Hospital, this event will certainly go a long way to helping developments in the hospital, particularly in its state-of-the-art radiology department.
The event is set to run from 11am until 6pm on Sunday, July 5. For more information on tickets, admission and parking, visit www.irishjagclub.ie and www.cmrf.org.