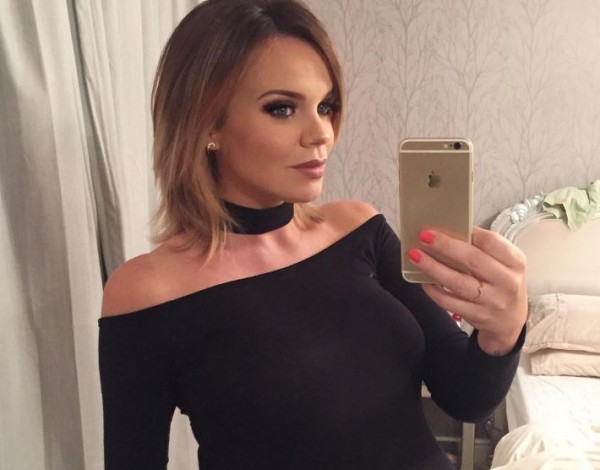 Former TOWIE star Maria Fowler welcomed her first child, Evie Paris Batey on 25th September, and just like plenty of new mums has been taking to social media looking for answers to her questions.
The 30-year-old welcomed Evie with her boyfriend, Kelvin Batey, and has been rejoicing in being a mum by sharing plenty of snaps of her little one with followers.
But Maria has not just been using social media as a way to gush over her little one, she has also been using it to its advantage asking fellows mums for plenty of advice.
Just recently, the mum-of-one took to Twitter to ask her followers if Evie feeding every hour and a half is normal, before adding that rather than the recommended 90ml, she is taking at least 110ml.
They tell you feed 90ml every 3-4 hours... sometimes Evie wants feeding again after an hour and a half and like 110ml. Is this normal?

— Maria Fowler (@MariaFowler) October 9, 2016
Thankfully, her fans were quick to offer up their advice, with many just telling her to trust her own instincts.
@MariaFowler your her mother. You know best. My son fed every 3-4 hour 6 5 ounces from birth. Otherwise he used to cry for more milk x

— Sarah Lawrence (@Sarah_Louise_31) October 9, 2016
@MariaFowler I've fed both of my babies on demand. Hungry babies need that bit extra. Both of mine were content and good sleepers x

— Natalie Dawber (@nataliekate83) October 9, 2016
@MariaFowler my son was like that. Up her bottles that way if she wants it it's available or carry on feeding on demand

— Andrea Curtis (@NuttyTart28) October 9, 2016
@MariaFowler these people that make rules like this don't even have children. Follow your gut and get on with things how you know them to be

— Demi (@demi_leighfox) October 9, 2016
@MariaFowler just a hungry baby

— Jess... (@Guest11Jessica) October 9, 2016
@MariaFowler completely normal xxx

— steph o'flaherty (@stephof) October 10, 2016
@MariaFowler yep! Midwife told me that they'll just feed on demand.

— Stacey Bates (@staceyleebates) October 9, 2016
We love how social media users come together to offer up advice from their own experience.
SHARE one piece of advice you received as a new mum that helped you out a lot.