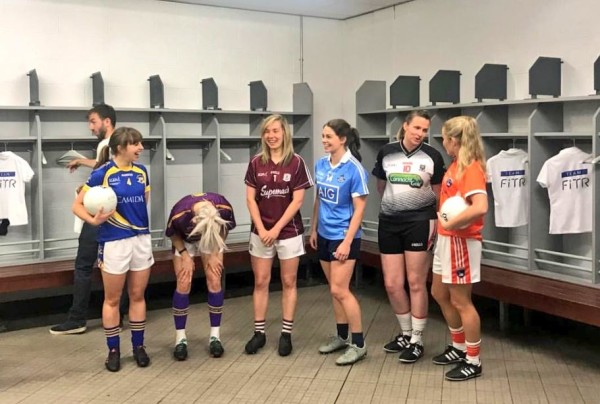 We're all aware how important being active is for our physical and mental health. But despite knowing just how vital it is, the menstrual cycle - one of the most natural parts of the female body - is the reason many women stop playing sport or exercising.
In fact, according to research by Orreco, over half of women have stopped taken part in sport activities because of their period. This rises to nearly 75 percent of 16 - 24-year-olds.
A shocking statistic considering just how important being active is. However, FitrWoman app plans on putting an end to this. Something that Dublin All-Ireland champion and 2017 Player of the Year Noelle Healy is totally on board with.
"It just gives a little bit of power, a little bit of control back so you can stay on top of it. You can actually use it to your benefit and to enhance your training, to get the most out of your training rather than just dealing with it when it comes," the champion told MummyPages when talking about the app.
A Fun , informative and most importantly an empowering morning with @fitrwoman and @ORRECO1 ! Looking forward to a great partnership with @LadiesFootball #trainsmart #femtech #knowyourcycle pic.twitter.com/LX35EhERIv

— Noëlle Healy (@NoelleHealy) June 20, 2018
FitrWoman provides personalised day-to-day evidence-based training and nutrition suggestions tailored to the changing hormones in a woman's cycle.
Talking about the benefits of the app, Product Developer Grainne Conefrey said, "[The app] allows users to plan ahead; plan their nutrition, plan their training. We have a recipe section where you can explore different snacks and meals."
Noelle, 27, has been playing Gaelic football for years, starting out in St. Brigid's GAA in Castleknock, and knows how a woman's cycle can impact on training.
"It would be impacting on their training and they wouldn't feel very well so they wouldn't be able to make the most out of their training. Some people might not even take much notice and it could arrive on the day of a match or a training session. And then it could impact that way because it is another thing they have to deal with."
We're delighted to welcome @noellehealy of Dublin as one of our @fitrwoman @LadiesFootball Ambassadors at today's announcement of our partnership #trainsmart #knowyourcycle #fuelyourperformance pic.twitter.com/mnVZbaSR3t

— ORRECO (@ORRECO1) June 20, 2018
Thankfully, things, including the development of the app, are being done to help women, like changing the colour of the shorts - just one small thing that can make a huge difference.
"Most of the gear comes from the men's team. A lot of girls would hate to have to wear white shorts and things like that. That was one of the big things that I noticed throughout the younger girls as well. In fairness, since the football has kind of grown, I know a good few clubs that have gone for the navy or blues shorts to just give you that extra bit of confidence. That's one less thing that you don't want to be worrying about."
Grainne hopes the app will "increase the conversation; to get people working with their cycle and to get coaches talking to athletes", and to put an end to this sense of awkwardness that many still feel when talking about their period.
We're @CrokePark today and we'll have some exciting news coming your way shortly!! pic.twitter.com/76kd5wvCw1

— Ladies Football (@LadiesFootball) June 20, 2018
"We're trying to educate everyone as well and spread that science. Once you understand how your body works and how it's reacting and what causing these different things, it opens the conversation. It makes it easier to talk to coaches."
The app is designed to help women exercising at all levels of ability during their menstrual cycle, and uses personalised data to give actionable insights to make smarter training decisions.
Periods are a part of the female body, and as Noelle says, "it shouldn't stop you from doing your sport."
You can download the FitrWoman App here: App Store, Google Play