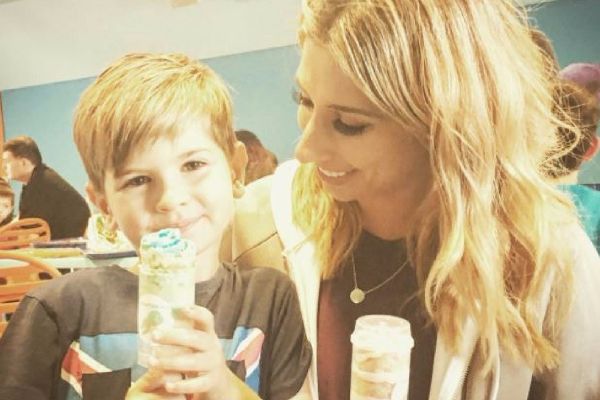 Stacey Solomon has made a candid revelation about being a single mum while travelling with children.
Stacey, 27, posted a photo of herself looking worn-out and asleep on a plane; with her young sons Zachary, nine and Leighton, five, dozing beside her.
Although the boys are curled up asleep in the photo, Stacey reveals it took a lot to get them to relax on the plane.
Stacey expressed solidarity with other single parents, writing: "Shout-out to all of the single mums taking their babies for the time of their lives this summer.
"It isn't easy! After three hours of trying to shout at them while whispering and using only facial expressions, this finally happened and we have landed safe and sound.
"I take my hat off to all the mums and dads doing it all by themselves. Best job in the world but also the toughest. Thanks to the weirdo who took this pic of us, hahahah! It's come in quite handy (sic)."
Stacey is now in a relationship with former Eastenders actor Joe Swash, but she appeared to be taking this trip without him.
Stacey's fans expressed their support for the Dagenham singer, with one commenting: "I feel you. After over 12 hours in the car of, 'Please stop' and 'No don't touch your brother', we finally made it."
Another woman wrote: "Hats off to you all. It's a mission to get my kids in the car to go to town let alone getting them on a plane. I spent the whole of our journey to Mallorca shouting at them."
However, others disputed Stacey's status as a single mum, despite the fact that both of her sons are from previous relationships.
"Not a single mum if you're in a relationship," one wrote, referring to Joe. "Where is he, anyway?"
However, the majority of Stacey's fan base came to her defence, with one replying: "Those who have nothing nice to say, pipe down!
"A woman has kids with a man. If they split then they're single parents, a new boyfriend isn't a father to the children; he's not there day in day out, so she is a single parent!
"@staceysolomon, hats off to you my love, single parenting is hard. I bring up five and every day is a chore. Worth every second!"
Travelling with children is never easy, no matter what the family circumstances are.
We hope Stacey will enjoy her holidays and make some wonderful family memories for her boys.