So much in our lives changes after we become mothers, and while most of it brings us life-long joy, the physical changes can be a little daunting – especially those on our bodies.
This is something that mum-of-two Laura Mazza has summed up perfectly, in a searingly honest post on her blog, Mum On the Run.
Sharing a photo of her post-baby tummy, the bottom half of her child visible in her arms, Laura captured a secret fear that many of us harbour when we look at our new shape – and then look at our partner.
"This isn't the body you fell in love with," she wrote, recalling a recent conversation she had with her other half, and lamenting over her pre-baby figure which fit so easily into 'tight jeans'.
"The body he fell in love with was toned; it had muscles. There were no stretch marks on my belly, none on my boobs, no gut form muscle separation."
Now, rather than slipping into jeans, Laura 'mostly wears leggings' – while her partner's body has stayed the exact same.
While it's a totally natural thing, and something we all have to deal with after welcoming a baby into our family, Laura can't help but feel upset and concerned – and she is not alone.
Luckily for Laura, however, when she recently opened up to her partner about this, he knew exactly how to deal with it. When the doting mum's tears began to fall, the dad-of-two gave the perfect response.
"He said, 'You're right. It's isn't the body I fell in love with. Instead, it's a body that grew our children, it fed our children, it comforted our children. Your body is the one I fall in love with every day," she recounted.
"I didn't know what love was until I saw this body and found out all it could do, so thank you," he added.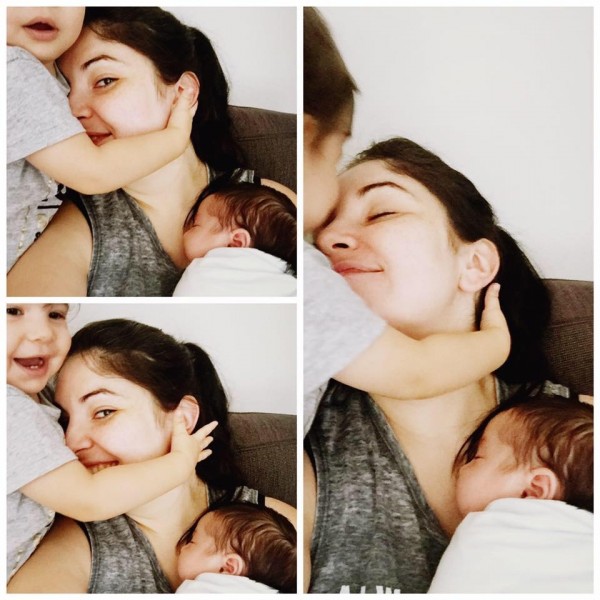 While we shouldn't require the validation of another – even our partner – to make us feel beautiful and empowered, sometimes it is exactly what we need when we're starting to question everything.
Laura has learned an important lesson, which she wants to share with fellow mothers everywhere: don't be ashamed of what you have.
"There's plenty of time to give up cake in the future. For now, enjoy the moments you have, and enjoy the fact that you have made something that is worth every stretch mark and every dimple," she advised.
We could not love this post more. If you need a pick-me-up, just remember Laura's wise words.