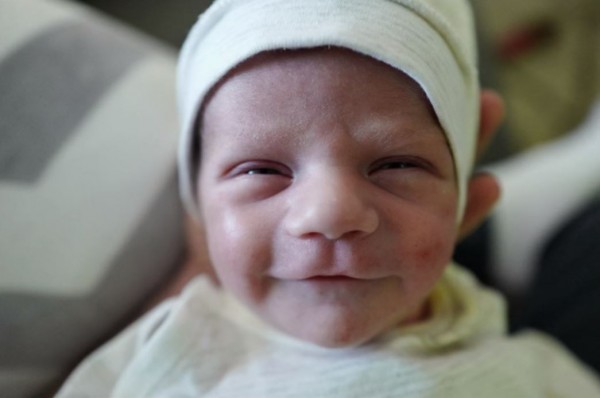 Comedian and presenter Jimmy Kimmel broke down in tears during last night's episode of his chat show, as he recalled his newborn son's diagnosis with a heart disease last week.
Jimmy and his wife, Molly McNearney, welcomed second child William – to be known as Billy – on April 21. Shortly after his birth, however, a nurse noticed that there was something wrong with the tot.
The nurse, at Cedars Sinai Hospital in Los Angeles, noticed that little Billy's skin looked purple in colour. He was examined by a group of doctors, who performed x-rays to check if there was a problem with his lungs. It was then, when the tests came back clear, that the team knew the problem originated in his heart.
An echocardiogram eventually returned the crushing news – little Billy, who was just three hours old at the time – was diagnosed with Tetralogy of Fallot and Pulmonary Atresia. His pulmonary valve was blocked, and there is a hole in between the two sides of his heart.
Recalling the frightening moment the drama began to unfold, a tearful Jimmy said: "It's a terrifying thing. My wife is back in the recovery room, she has no idea what's going on. I'm standing in the middle of a lot of very worried-looking people – kind of like right now – who are trying to figure out what the problem is."
A world-renowned surgeon arrived to perform surgery on little Billy, who underwent a three-hour operation to save his life.
"It was the longest three hours of my life," recalled Jimmy, explaining how one of two defects has been fixed, and the procedure was a total success. The tot will have to undergo another operation later this year, and again when he is in his teens.
While Jimmy was able to crack a few jokes before the studio audience – telling them that they 'even had atheists praying for them' – he could barely keep the tears from falling as he shared an update on his precious son.
"He's doing great – he's eating, he's sleeping. He peed on his mother today while she was changing his diaper – he's doing all the things that he's supposed to do," said Jimmy, who is also dad to two-and-a-half-year-old Jane.
After paying tribute to wife Molly for being so 'strong, level-headed and positive' during what he described as their 'worst nightmare', Jimmy paid an emotional tribute to the nurses, doctors and surgeons who helped to bring Billy through the frightening ordeal.