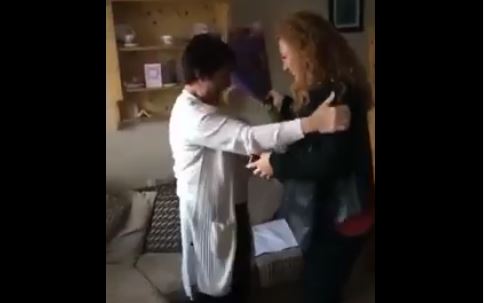 When it comes to surprise homecoming videos, we'd be the first admit that it doesn't take much to get us a little weepy, but this latest social media offering has us really choked up at MummyPages HQ this morning.

We all know that trying to pull the wool over the eyes of any mother is no mean feat, so hats off to Ciara Redmond who did the almost impossible this week.

After four days of air travel and who knows HOW long keeping her secret to herself, Ciara, originally from Co Cork but living in Melbourne, made her way to Co Wexford where her mum was staying for the summer.

After getting the perfect reaction to her surprise appearance, Ciara shared the footage of her reunion with her overjoyed mother on Facebook, writing: "Well after 4 days of travelling from Oz, 19 hour layover in Delhi and caught on a 17 hour cancelled flight in Frankfurt- it was well worth the surprise!"

"Home for good. Ireland I missed you but even more I missed my family," she wrote in the post which has been viewed more than 1,000 times since its upload.

"Thanks to everyone who helped surprise my mammy! God she reacted well!" Ciara added.

Grab a tissue ladies - you're going to need one.