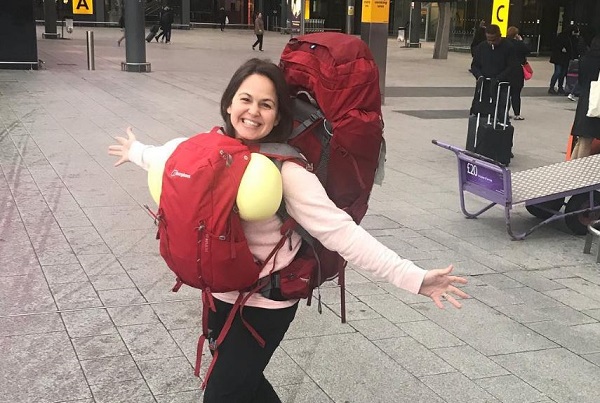 Giovanna Fletcher is known for being a best-selling author and the wife of McFly member Tom Fletcher. The Fletcher clan are one of the most loveable celebrity families around. Giovanna may be a successful writer, a loving mum, and YouTube star, but she has completed one massive task this week, which makes her our new hero.
Giovanna bravely took part in the Fabulous Challenge trek in Oman to raise money for breast cancer charity CoppaFeel.
The life-changing experience made an overwhelming impact on Giovanna who has been sharing photos and stories from the incredible experience on her Instagram account.
Giovanna and her fellow teammates managed to raise a whopping £216,000 for CoppaFeel.
She shared, "We flipping did it!!! The last few days have been the toughest of my life. I'm so proud of both our teams and have made so many new friends! We've cried so many tears in the last few days but thankfully today they are tears of joy!"
The author was joined by Olympic gold medallist Greg Rutherford who led two teams across Arabia from November 4 to 10.
The teams took part in the grueling 75km trek where they faced many hurdles, but they never gave up.
The mum admitted that she was worried about the trek, "I have to say, I was slightly nervous leading up to the trek. Thanks to writing I spend a lot of time on my own. I was worried having company would wipe me out or that I wouldn't be able to cope with the intensity of others wanting to talk."
Luckily, the mum enjoyed every moment, "I loved every single conversation. I loved pushing myself beyond my limits and helping others do the same. I loved being part of a team - and having a team. I LOVED leading my G-dawgs."
The experience helped Giovanna develop strong bonds with her fellow teammates, "Lifelong friends made, and I couldn't be more thrilled."
It may have been a wonderful experience, but the writer revealed that she did struggle throughout the trek, "I can't even begin to tell you how challenging this week has been. I thought I was going for a walk through the desert... turns out we were climbing mountains."
She continued, "In the last few days I've done things I would never have imagined (including eating a tarantula) and I couldn't have done it without the wonderful people out there with me."
Giovanna's team supported her throughout the week-long trek, "I was lucky to meet each and every one of them and feel so privileged to now call them my friends. What an inspirational bunch."
Be proud Giovanna, what an immense achievement!