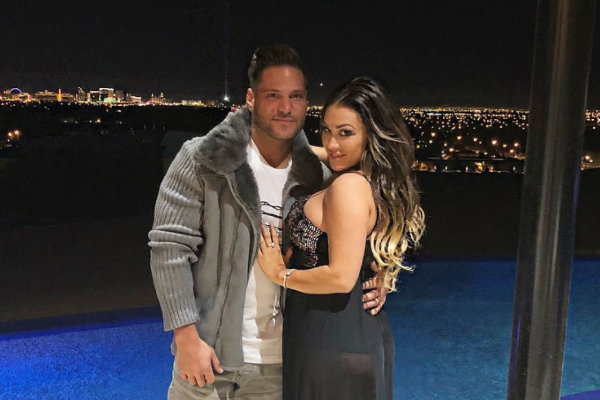 Picture via Instagram
On April 2, Jersey Shore alum Ronnie Ortiz-Magro became a father for the first time.
Now, he and his girlfriend Jen Harley have shared their daughter's adorable and slightly unusual name - and we absolutely love it!
Strangely enough, the 32-year-old revealed that their baby girl's name started off as a running joke.
"When we first started dating in the beginning, we'd joke around saying, 'What if we had a kid? It'd be crazy and good looking!' And we'd say 'What would we name it?' We joked that we liked Ariana," the reality star told Us Weekly.
"When she found out she was pregnant, we looked at each other and we're like, 'Guess we're naming the baby Ariana if it's a girl.' Next thing you know, we find out the gender and we're like, 'Guess so!'"
Funny how that kind of thing works out!
As for Ariana's middle name, Jen actually wanted Sky as their daughter's first name. However, they decided to call their little one Ariana Sky in the end.
The new dad has certainly been getting into the swing of things when it comes to caring for their daughter. His early bird sleep schedule helps when it comes to looking after Ariana because, as he said, "We figure it's like a job and you have shifts as a job."
"I'm an early bird!" the New York native explained, "I like to go to bed early, wake up early. I go to bed around 11 and wake up at, like, three. Then she'll sleep until nine.
"I'll watch the baby through then, then I'll go about my day – whether it's gym, tan or laundry. Then when I get back, she'll handle her errands. We take turns. We're a tag team – I tag her in, she tags me out."
Now that he's a first-time dad, Ronnie says he can relate to his Jersey Shore castmates Snooki and JWoww, who missed their children dearly during the filming of Jersey Shore: Family Vacation.
"This is the first time I've been gone in 13 days. I wanna be on the next flight out of here, to get back there," he admitted.
"Luckily, Jen is very understanding; she understands that I live a certain lifestyle that involves me travelling but she knows I love her and the baby at the end of the day."
We are so very happy for Ronnie and Jen, and we wish them the best of luck as new parents!