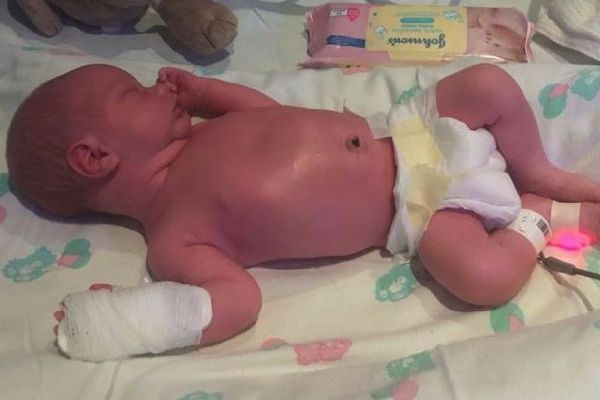 A young mum has revealed how her baby boy became seriously ill with meningitis, after he contracted a dormant virus.
Krystal Hayes was overjoyed when she gave birth to a healthy baby boy, whom she named Gunner. However, at just nine days old, little Gunner suddenly became ill.
She explained: "He started to feel a little warm. We did the usual - took off his blanket, left him in his vest; it was a warm weekend.
"A few hours later, we replaced the battery in the thermometer and took his temperature, showing a whopping 38.9. Took off his vest to find his breathing was really rapid and he was sensitive to touch.
"Rang midwife immediately. 'A&E straight away,' they said. 'You need a paediatric doctor.'
"No rashes. Wet nappies. Eating fine. Not sensitive to light. No stiff neck that we could tell. His hands and feet were cold and his body hot, but most newborns do have cold hands and feet."
Gunner was assessed quickly at the hospital, but doctors weren't sure what was wrong. Then, things took a scary turn as he became seriously ill.
"His heart rate was between 200 and 222 at its peak, couldn't reduce his temperature and he started convulsing. He was barely responsive. His colour changed completely," the mum-of-two explained.
"Bloods were taken. Urine Taken. X-ray Taken. All clear, all fine. IV antibiotics were given immediately, and paracetamol and ibuprofen to try and reduce his temperature."
Once Gunner had finally been stabilised, doctors informed Krystal and her partner John Gresham that they needed to perform a lumbar puncture (a procedure to collect cerebrospinal fluid) to assess if Gunner was suffering from meningitis.
Krystal asked herself: "How could this be possible? Surely this healthy 7lb 8 oz boy born just nine days earlier couldn't have meningitis!"
She continued: "His lumbar puncture results showed viral meningitis. They continued his antibiotics as a precaution and added some anti-viral drugs to his IV prescription."
Krystal was puzzled as to how Gunner could have contracted meningitis just days after being born.
Doctors told her that it was "likely that someone, or even one of us could have been carrying a dormant virus, which could have been transferred to him by just an innocent kiss".
"This virus then would have become active in his little body, infecting his meninges, the three membranes that envelop the brain and the spinal cord."
Krystal explained that up until now, she couldn't imagine anything worse than not being able to kiss her own child.
She added: "I smother my kids in kisses, even my friends and relative kids, I'm actually called Aunty Kissy for that reason."
However, she's now sworn never to kiss "another newborn that doesn't belong to me, and never will I kiss any of my new babies (if I have anymore) on or around their mouths again".
"Because the worry and pain we felt that day was beyond words, keep them safe and DON'T kiss the baby," she urged.
We're relieved to hear little Gunner recovered from his illness; what a horrible ordeal for all involved.