As Mum-in-Residence for MummyPages, I was thrilled to be given the opportunity to review the Just-Eat.ie service. Friday night is always take-out night in our house, so I am already on first name terms with the local Indian restaurant!
After logging on to the Just-Eat website with my phone, I discovered (to my delight) that there was an app available to download. Quick detour to the App Store and I was all set.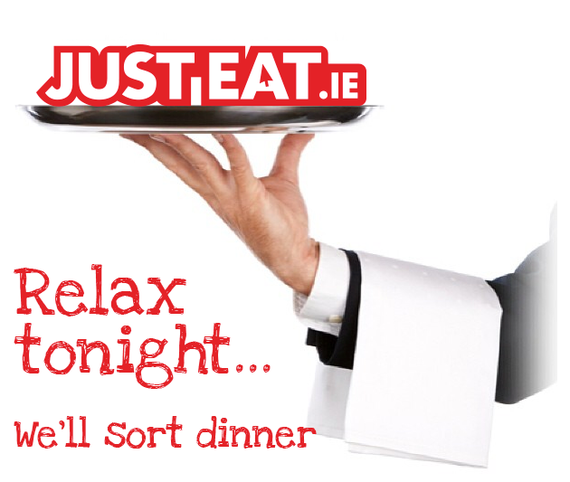 The ordering process seemed simple enough. After a brief conversation with my husband later, we decided we'd go for "our usual," but after entering my location into the app, quick as a flash, a whole host of restaurants with a take-away service popped up. As a new resident in my area, I had been sticking to obvious takeaways on the main road in the village. However the Just-Eat service was offering me cuisines from restaurants I didn't know existed. Mexican, Italian, Indian, Thai and much more - I was thrilled!
With so much choice at my fingertips, I had to revisit my earlier conversation with my husband and we decided to opt for something new from a lovely local restaurant that we never knew did take-away. A few finger taps later and our meal was ordered. I had a choice between paying by card or cash - I chose card and a choice between a timed delivery or as soon as possible - I chose ASAP!
Fifteen minutes later and there was a ring on the door - impressive! Two steaming hot cartons of Thai food were promptly emptied onto the plates that had been warming in the oven, and then transported to the sitting room where my cutlery and glass of wine were waiting. Pure heaven!
The whole experience of ordering through the Just-Eat service was fantastic. When I log back in, it even remembers my previous orders and I can choose to store some of these in my Favourites menu. The real-time online help facility (available 7-days a week until 2am) is super efficient for anyone with a question, I tested it out and had a lovely fellow reply to me within seconds.
Another really nice feature of the site is the fact that you can buy Just-Eat gift vouchers for friends and family, so you'll never be stuck again when buying for the person who has everything!
Just-Eat.ie
- in the words of Arnold Schwarzenegger, "I'll be back!"