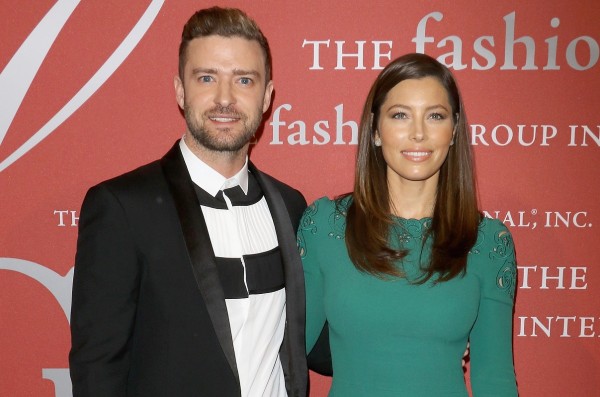 They are notoriously private about their person life, but Justin Timberlake and Jessica Biel decided that Father's Day was the perfect time to break from tradition.
The couple, who are parents to two-year-old Silas Randall, took to their social media channels to share some adorable family photos, in honour of the special occasion.
Jessica paid tribute to her husband of five years with a collage of pictures, including a sweet one of him holding hands with his son.
"To all the dads out there, including mine, who selflessly give their time and love to their families, I appreciate and salute you," wrote the former Seventh Heaven star.
"And to my beloved husband, my adventure companion, my road dog, who works tirelessly for THIS family and gives of himself energetically and spiritually every day. I am eternally grateful for you and your love.
"As Silas likes to say, 'You are so much cool.' I love you to the moon and back. Your adoring wife, Me."
All together now: awwwww!
As you can imagine, the 35-year-old's heartfelt post garnered plenty of love on Instagram – but we reckon Justin raised the bar with his response!
Yes, not to be outdone by his other half, the Can't Stop the Feeling singer took to Instagram to share his own dedication – including, again, some adorable family photos!
"These two angels," he began, in reference to his wife and son, describing them as 'the greatest gift he has ever known'.
"The reason why I won't EVER STOP! Happy Father's Day to all the dads out there! Hope you are enjoying!" he added.
If any celebrity couple ever defined family goals, we reckon Jessica and Justin are right up there.
The couple seem to be thoroughly enjoying family life – after getting to grips with the difficult early days!
Indeed, Justin previously admitted that fatherhood 'broke him down' at first: "Those first eight months felt like those old shows where people are balancing spinning plates on poles – except, if you drop one, they die."
As terrifying and dramatic as Justin made early fatherhood out to be, however, he also revealed that it has 'amazed' him.
"They teach you…It's crazy, watching him learn things, this new appreciation for both of them – you known, her [Jessica] and him [Silas] – and so it's humiliating, and it's humbling at the same time," he added.
While they may not share sneak-peeks into their lives too often, we love it when they do!