Since his highly-anticipated arrival last April, we have been given just a couple sneak peeks of Justin Timberlake and Jessica Biel's baby boy, but that's all changed now!

Appearing on The Tonight Show with Jimmy Fallon this week, the internationally-acclaimed superstar opened up about fatherhood and shared two adorable snaps of beautiful baby Silas Randall.

Delighting viewers and social media users the world over, the normally private Justin gave fans and followers of the high-profile couple an insight into Biel / Timberlake family life and shared his thoughts about the exciting new chapter in his life.

With his son turning five months old on the day of his appearance, Justin took the time to reflect on fatherhood and the impact it has had on him.

"​It is the most insanely amazing, wonderful, unbelievable thing to ever happen to you," he gushed.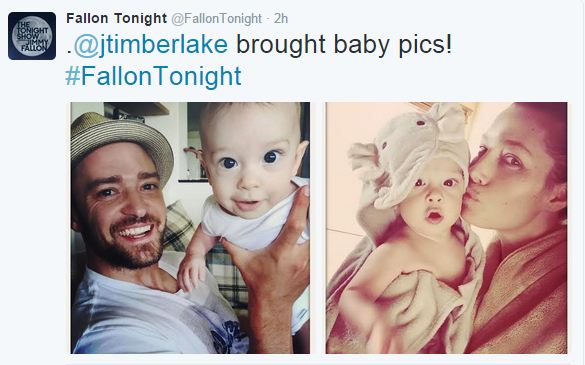 Equally as thrilled by the star's candour was the show's host, Jimmy, who wasted no time sharing the family photos which Justin brought along with him.

Uploading two incredibly sweet snaps to the show's social media channels, the Fallon Tonight twitter page delightedly announced: "@jtimberlake brought baby pics!"

The photos, which have since been favourited thousands of time in mere hours, show a beaming Justin happily clutching his little boy while another captures a tender moment between Jessica and her gorgeous son.

It sounds like Jessica, who also shared her thoughts on Silas' arrival recently, and her doting husband couldn't be happier right now.

Our hearts are melting!