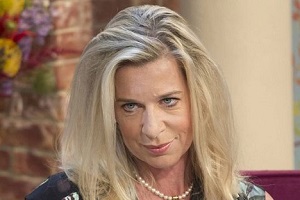 She is renowned and reviled for her controversial opinions and statements on just about everything, but Katie Hopkins has given a rare peek at her sensitive side this week.
The columnist has penned a letter to her children – 10-year-old Maximillian, nine-year-old India and six-year-old Poppy – giving them advice in case she dies from her epilepsy.
"We know Mum's doctor says her epilepsy will get her one day. Fruit loops say Karma will. But either way, I wanted to write down a few things for you to remember as you get bigger," the 40-year-old wrote.
The piece, published in The Huffington Post, goes on to share her often touching advice to her three children, with everything from navigating a zebra crossing to dealing with people who 'put you down' included.
Recalling the breakdown of her first marriage, to Damian McKinney, Katie writes: "I hope to be there for your big day, but more importantly, I want to be there if it all goes wrong. My mum was there for me when this happened. You girls were a year old and less than a month old back then. And your grandma and grandpa made it all OK. Somehow."
Needless to say, Katie's humorous side was on full display throughout the letter too, with one of the lighter paragraphs reading: "We agree, Tampax make great mice. But not everyone thinks like us. Sometimes we are odd. This is OK too."
Critics of Katie will be interested to see her refer to all of the "royal cock-ups" she has made during her time in the public eye which, she insists here, she has no regrets over.
What do you think of Katie's letter?