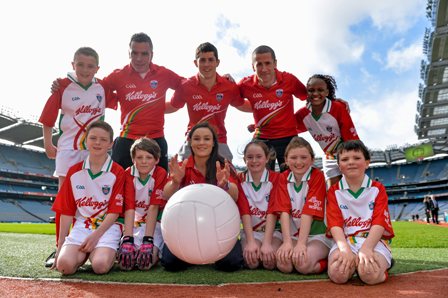 With the summer holidays finally here, parents are busy looking for ways to keep kids entertained. Here at MummyPages we highly recommend Kellogg's GAA Cúl Camps for boys and girls between the ages of 6 and 13. The camps provide kids with an action packed and fun filled week of activity revolving around maximizing enjoyment and learning the skills of Gaelic games.
The camps are structured in such a way that a different aspect of the game is worked on each day and children can then practice what they have learned.
Over one thousand camps will take place in communities all over Ireland during July and August with 2,100 voluntary coaches giving over 30,000 hours of coaching to young children. The Kellogg's GAA Cúl camps are a wonderful way for children to learn new skills, get active and make new friends and promise to be the highlight of your child's summer.
The camps are competitively priced at €55 euro and look out for promotional packs of Kellogg's Corn Flakes and Kellogg's
Rice Krispies will feature a unique code, which can be used online by parents to receive a €5 discount off the €55 fee for the 2013 Kellogg's GAA Cúl Camps. The unique codes will be printed on the inside of promotional packs, available in stores from April to August 2013. One code can be used per child, per registration, to avail of the €5 discount. Parents can avail of this discount by simply logging on to
www.gaa.ie/kelloggsculcamps
.
Further discounts are available to families that register more than one child for a 2013 Kellogg's GAA Cúl Camp, making them one of the most affordable national summer camps.
For a full list of dates and locations of Kellogg's Cúl Camps and to book using the unique discount code, log onto
www.gaa.ie/kelloggsculcamps
.