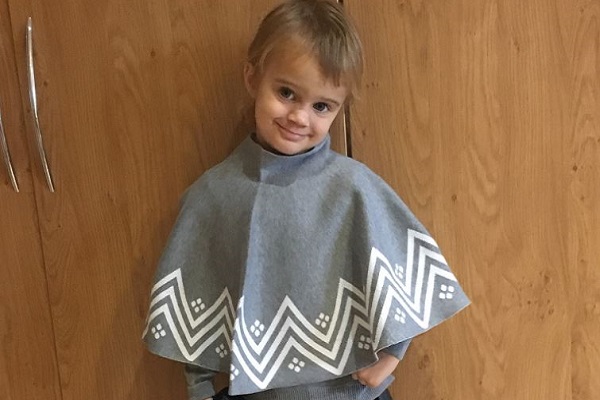 Many mums will love the foolish blunder Kerry Katona made when shopping for her daughter. She shared the hilarious anecdote on her Instagram account yesterday.
The 37-year-old mum posted a picture of her daughter Dylan-Jorge in a brand-new outfit, however, Kerry admitted it wasn't what she imagined it would look like.
The mum ordered the clothes online and much to her surprise the poncho she ordered, turned out to be something different altogether.
She shared the mishap on Instagram, "OMG I'm sooooo thick!!! Got this beautiful outfit for dj from @minnkies I thought it was a jumper with a Poncho!! It turns out to be a skirt and a jumper."
Being able to shop online is a blessing to us all, however, we can all relate to Kerry's mistake. Everyone has been surprised when their online shopping order ended up being completely different to what it looked like on the website.
Her daughter DJ still looked adorable in the grey and white ensemble. She posed for numerous photos, which Kerry shared alongside the hilarious story.
Kerry wasn't too bothered by the incident and laughed at her foolish mistake.
Numerous mums understood how she felt and reassured her that it has happened to them too.
One user thanked Kerry for bringing a smile to her face, they wrote, "Best laugh I've had all day. One to tell her when she's older."
Another empathised with the mum-of-five, "Lol that's something I would do. She still looks gorgeous though."
Many people praised her daughter who managed to pull off the unique look, "She looks gorgeous, but we know deep down she's one wee cheeky monkey."
Another user joked, "Setting a new fashion trend Kerry, a very versatile skirt."
One mum thanked her for her honesty, "Love that you're sharing your mum fails with us. We all have them!"
Kerry was recently praised for her honesty when she announced that she had split up from her boyfriend James English.
She made the announcement on Instagram in the most positive way, and mums praised her for her upbeat attitude.
She wrote, "'I'm in a relationship with me. I make me happy and will never leave me. Single is good when you like yourself and don't count on anyone else for your happiness!!"
Many women were quick to thank her for being so open about her relationship status. Kerry's honesty is certainly one of her best qualities.