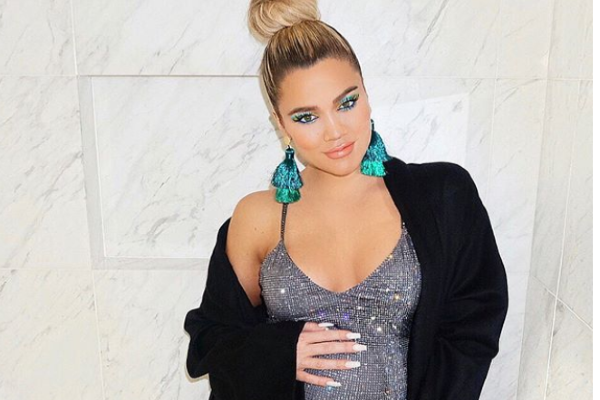 Khloé Kardashian will be welcoming a baby girl into the world in a handful of weeks. The mum-to-be cannot wait to become a parent, but there is one thing she's been missing a lot since becoming pregnant.
The 33-year-old admitted that she is eager to get back to the gym. She tweeted, "Random thoughts but I can NOT WAIT to f**k up the gym when it's time lol."
She added, "Beast mode is dying to return!! I know it won't be easy but I'm excited about the challenge."
Numerous mums responded to the tweet asking Khloé to share her workout tips with fellow parents.
One wrote, "Yes please, give us "moms" some inspiration & tips, on how to lose the baby weight!" to which Khloé replied, "When I find it- I'll spread the love."
One mum shared her advice with Khloé, "A new baby will exhaust you like never before. Perhaps easing into a workout routine might be a good idea."
Experts have warned women that getting back into a rigorous workout routine is not a good idea. The best thing to do is to ease yourself back into it slowly.
Luckily, there are many safe and easy exercises you can do after giving birth.
Most mums believe that walking is the easiest and safest form of exercise that you can do shortly after giving birth. However, it's important to remember that doctors say that you should wait until you're six weeks post-partum for a normal delivery, or 10 weeks after a section to start working out properly.
Easing yourself back into it is the wisest move, rushing will only stress your body out. Swimming is another type of exercise that is highly recommended for new mums as it doesn't put too much pressure on your joints or core muscles.
Always wait until your GP clears you to start exercising again because every mum and every body is different.
For more information on exercising after pregnancy, click here.