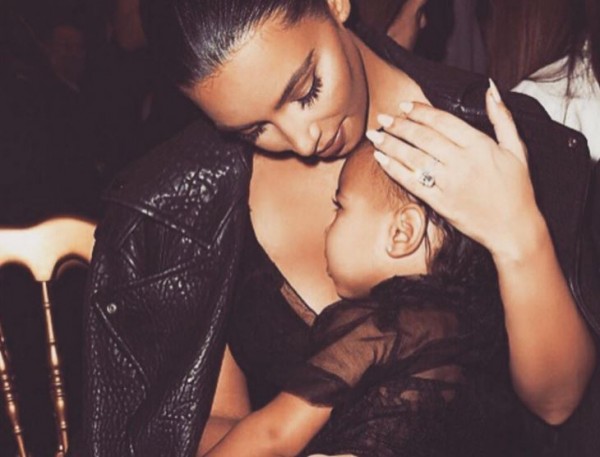 Kim Kardashian has revealed her daughter North is the reason she no longer breastfeeds her four-month-old son, Saint.
When asked on her sister Khloe's chat show, Kocktails with Khloe, if she was still breastfeeding, the mum-of-two said "nope", adding that her two-year-old put a stop to it.
"She would cry so much and try to pull him off me. She was so jealous she took her little milk box and put it in my bra with the straw sticking out and she wanted to drink while he was drinking," she explained.
But just like every child in the world, after Kim stopped feeding Saint, North wanted her mum to keep doing it!
"She said to me this weekend: 'Mummy, I'm not mad anymore. You can feed baby brother and I won't cry.' And I was like: 'Honey, the milk's all dried up.'"
This is not the first time that Kim has mentioned North's jealously towards her feeding her youngest child.
In a blog post in January, the KUWTK star wrote: "For some reason, North hates when I feed the baby, and she lays on my lap so Saint can't be right in front of me to eat, LOL!"
"I've started to include her: Sometimes I will pump and have her feed him the bottle. That totally worked! She loved helping me, as opposed to my attention being off of her, and now she is my little helper."
And while the reality star admitted that she tried everything to involve her daughter in caring for Saint, it seems that Kim just had enough!
SHARE if you can relate.