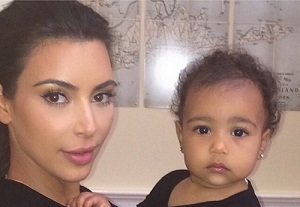 Kim Kardashian and Kanye West are known for standing out from the crowd when it comes to their ideas and approach to life, but we are interested to see what you mums and dads think about their latest plan.
According to reports, the superstar couple are planning on getting their two-year-old daughter North in on the action when their second child is born – in the delivery room.
Kim is said to be eager for her daughter to witness her little brother coming into the world, and has made the tot an important part of her birthing plan.
A source told HollywoodLife: "Kim wants this experience to be a family affair and she wants Kanye and Nori in the delivery room, watching her as she gives birth to her son."
"Nori may be too young to comprehend what's going on, but Kim wants to tell her that she was there, front and centre, when her brother was born. Once he's born, Kim wants herself, North and Kanye to all lock hands with the baby's, solidifying their strength, commitment, and love of family," the source added.
Kim, who announced her pregnancy back in June, is due to give birth in the winter. What are your thoughts on this latest report?