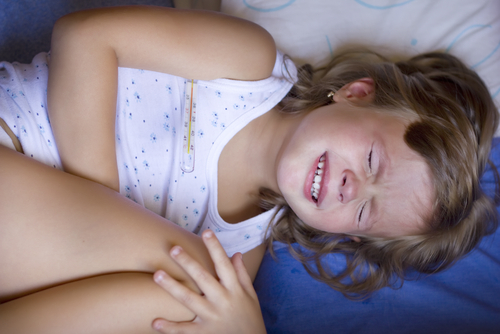 Sometimes kids just can't face going to school so they may resort to pulling a sicky to get a day in front of the TV. Unfortunately, it can be hard to determine if they are actually sick or if they are pulling a fast one, but you need to show them that they can't get one up on you.
Here's how to tell if your child is trying to get out of going to school or if they are really sick:
See how they react to no TV and no fun at home
Sometimes kids just don't want to miss out on fun at home or fancy a day in front of the TV. However, it is up to you to make sure they realise that home is not going to be fun and that they will miss out on playing with their friends in school. Tell them there won't be any TV on and they will have to stay in bed – see how quick they get dressed when they hear this.
Check their temperature
If your child is really sick they may have a temperature, so check to see how hot they are. Pull out a thermometer and if their temperature is higher than 37.8°C then they are definitely sick.
Be observant
Make sure you are observant with your little one. Listen and watch them to see how they behave when you aren't around. If they still cough when you are not there they are probably not faking but if they are perfectly fine playing with their toys they may be trying to pull a fast one.
Use your best judgement
You will be the best judge when it comes to determining if your child is sick and it is up to you to decide if they are well enough to go to school. As they grow up you will begin to spot the tell-tale signs that they are actually sick
What to do if they are faking
If you discover that they are faking it, it is important that you get to the root of the problem. Sometimes they may be pulling a fast one because they are having trouble in school so don't just immediately put their acting down to laziness. Talk to them and ask how they are getting on in school, they may have a test that they haven't studied for or are being bullied.