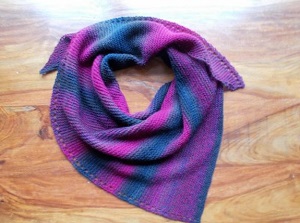 This month, I designed a quick and easy lace eyelet shawl to add a touch of style to any outfit.
Supplies needed:
1 ball 4ply yarn of appox 400m
1 pair 3mm needles
Stitches used:
k = knit
yo = yarn over. Bring the yarn from the back of the work to the front (as if to purl) and wrap the yarn over the right hand needle, bringing the yarn to the back (to the knit position).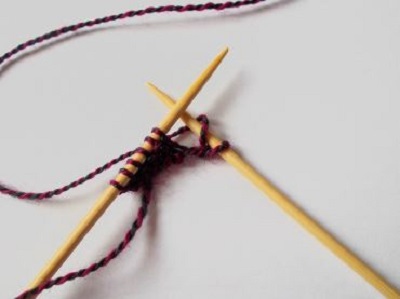 k2tog = knit 2 stitches together. Knit the next 2 stitches together as one stitch.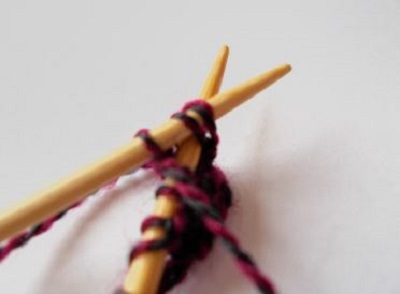 Notes:
Once cast on, this shawl is a simple garter stitch project which is triangular in shape, with the increases happening on one side only in the form of yo's.

These yo's are mirrored on the other side as a decorative detail only, and are followed by a k2tog. This gives you the triangular shape, with one side remaining straight and one side increasing outwards as pictured.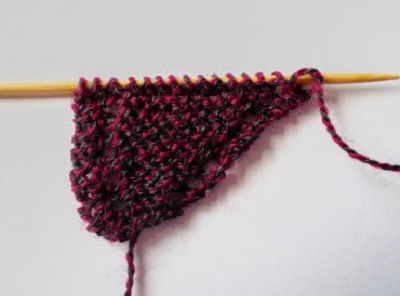 As this shawl uses only one ball of 4 ply, it's a perfect project for that one ball you may have lying around, wondering what to do with. Or why not use a ball of extra special yarn to give your shawl that touch of luxury? Have you spotted one of those self-striping or variegated yarns and wondered what would you knit with that? This shawl would look wonderful knit up with one of those yarns.
For the sample shown in the pictures, I've knitted it with one ball of variegated sock yarn.

Don't be afraid to experiment. It's such a simple pattern, it will take the craziest of colour ball creations and still look good, just as it will look good in a yarn of subtle colour changes or plain solid colours.

As always, read through the pattern before commencing.
Instructions:
Row 1. Cast on 7 stitches.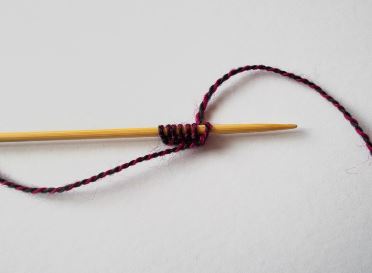 Rows 2-3. K2 rows.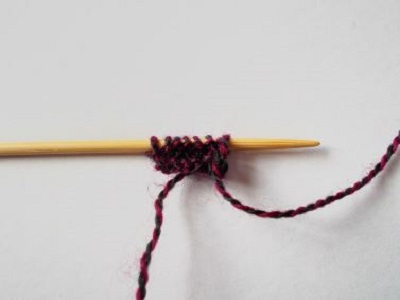 Row 4. K1, yo, k to the last 3 sts, yo, k2tog, k1.
Row 5. k all the sts including the yo's which you just knit like a st.
Row 6. k1, yo, k to the end of the row.
Row 7. k all the sts.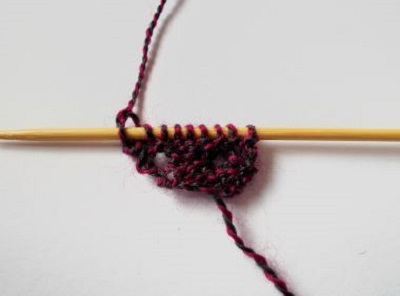 Repeat rows 4-7 until you've enough yarn left to cast off.
Just be careful not to leave yourself short.
You can weave in those ends now and wear it as is, or you can do a little thing called blocking with it.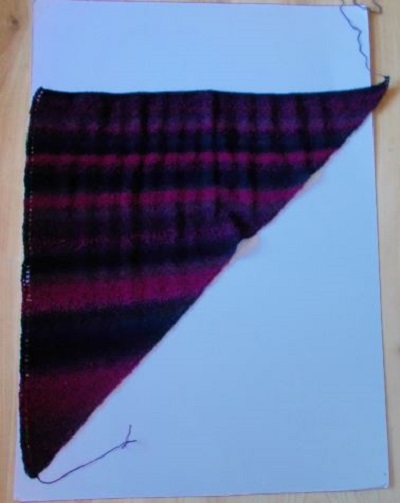 Blocking:
Blocking a piece of knitting is like taking your knitting to have its hair done. It can take some time, but it's definitely worth that bit of extra time and attention.
Supplies needed:
A basin of cool water.
A towel.
Rust-proof pins will do perfectly for this. If you have blocking wires you can use those, but they are not essential.
Something to stick the pins into as your blocking, be that the carpet, the mattress, or blocking mats. I use a set of foam play squares that can be picked up in toy shops.
Instructions:
Soak the shawl in the bowl of cool water for at least an hour; overnight won't hurt it. You can use a little wool wash or even conditioner if you want to, but the cool water is just fine.
You want your shawl damp but not dripping, so give it a gentle squeeze after it's soaking and roll it up inside of the towel. Leave it a couple of hours, or give the towel a twist or two while holding tight to one end, to hurry up the process a bit.
Because this shawl has two straight edges, I started in a corner and pinned the top edge evenly along the edge of the mats. With the knitting damp, the shawl will stretch and grow to be a much bigger size; this is normal. Next, move to the straight side and pin it down. As you stretch this side out, you will notice the row of decorative lace opening up now. With both straight sides pinned down, you can now stretch out and pin the other side down easily.

Do look at this row and try and keep it in a straight line from corner to corner. This part can be fiddly, but it is worth it in the end.

Once the shawl is all pinned out, leave it to dry completely. Once dry, y

ou can unpin it and,

hey presto,

your shawl is now blocked and ready to wear.