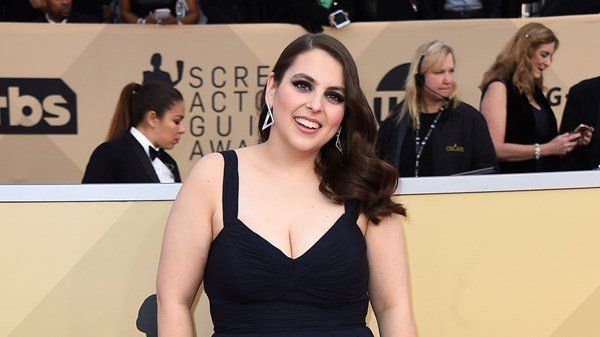 Saoirse Ronan may be receiving a bulk of the nominations for her acclaimed performance in Greta Gerwig's Lady Bird, but her co-star Bearnie Feldstein (who is the sister of Wolf Of Wall Street star Jonah Hill, in case you didn't know) instantly became a red carpet darling at the SAG Awards last night when she revealed she chose to shun a pretentious designer gown and opted to re-wear the dress she wore to her school prom (or debs) as a teenager instead.
She told The Cut that she decided to wear her elegant black Kay Unger gown once again after simply trying it on one day and deciding that it would be a perfect fit for the glamorous awards ceremony.
"I put it on and it fit, surprisingly maybe better than it did in high school! I looked at myself and I was like, WHAT!? and my mum and her best friend were just laughing so hard, like, 'You have to wear it! There's just no other dress that would be better,'" she explained.
She went on to explain that wearing the throwback garment at the SAG awards would also be the perfect way to pay tribute to her role in Lady Bird.
She was nominated with her cast for outstanding performance by a cast in a motion picture for her role in the film and her character, Julie, attends a prom towards the end of the movie. "The first time, I'm going to an awards show as a nominee with the cast, it's like, you gotta wear your prom dress, girl, and honour Julie," Feldstein added.
We're seriously impressed at her garment reworking skills and the down-to-earth, sentimental reasoning behind it and more than a little envious that her dress fit her even better the second time around!