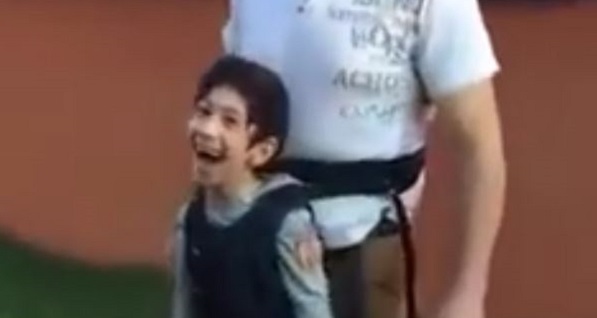 Just yesterday, we were taken aback by the Trojan work of Hunter Gandee, a US teen who walked 111 miles with his little brother on his back, all to raise awareness of disabilities. Today, again, we are a little lost for words after watching the following footage.
One father has become an internet sensation, after footage of him helping his son to walk and play football using a DIY device went viral.
The little boy in the video has a disability which means that simple things such as taking a walk in the garden and kicking a ball around are sadly not part of his daily life.
However, using a harness system that attaches his back and his feet to his father's stomach and shoes, this little boy was recently able to try out these things we so often take for granted – and he absolutely delighted in doing them.
In the footage, the little boy's reaction gravitates between astonishment and pure joy as he experiences the world from a completely new perspective.
The footage was shared to the 'LIFE' Facebook page, with the caption explaining that the father 'invented' this harness for his son. In it, the writer also describes the doting father as a 'legend'; something which we certainly agree with.
Since being shared to the page, just six days ago, the footage has already drummed up almost four million views, and it's clear that the scene is striking a cord with people all over the world.
One follower wrote: "I was born with cerebral palsy. I can understand the sheer joy of doing something you have been told your whole life you will never be able to do. This child's face just says it all. I had the same smile on my face when I broke my first board in Karate with a kick. That was something I was told I couldn't do. God bless this father for making his son's dream come to life."
SHARE with someone who will be amazed, delighted and touched by this video.