Think back 30 years and for most people, the extent of their kitchen lighting thoughts started and ended at a big fluorescent strip light slap bang in the centre of their kitchen ceiling.
It was the only lighting choice and offered two choices – no light or a super strong, almost blinding light that illuminated every cobweb and showed up every grubby surface.
But things have moved on, not only in lighting technology and options, but also in what we want out of our kitchen lights. This has mainly been born from the changing uses we have for our kitchens and that should be the first consideration when choosing the ideal lighting solution for your kitchen.
Are you a cooking perfectionist who requires enhanced lighting around your food preparation area? Or are do you want mood lighting to accompany your trip to the microwave? Is your kitchen a place where you love to entertain and need special lighting for a table? Or is the kitchen just somewhere that your cat or dog nibbles their dinner and somewhere that you don't really spend much non-essential time?
Big kitchens can seem cold and unwelcoming with large overhead lights – nobody wants the sort of light you'd find over an operating theatre or full-size snooker table in - while small kitchens can seem even smaller with soft lighting.
The good news is there are a plethora of different options to suit all tastes and budgets and even the smallest change can really show off your kitchen in a whole new light.
For a modern and unobtrusive look, a recessed ceiling spotlight can provide the perfect amount of light for your particular usage and you can ensure that areas you want to highlight receive maximum light.
Recessed ceiling lights can be placed anywhere and don't necessarily need to follow a pattern in terms of being symmetrical – you can dot them around the kitchen areas that you need to have more light, such as over worksurfaces, the sink or where you eat.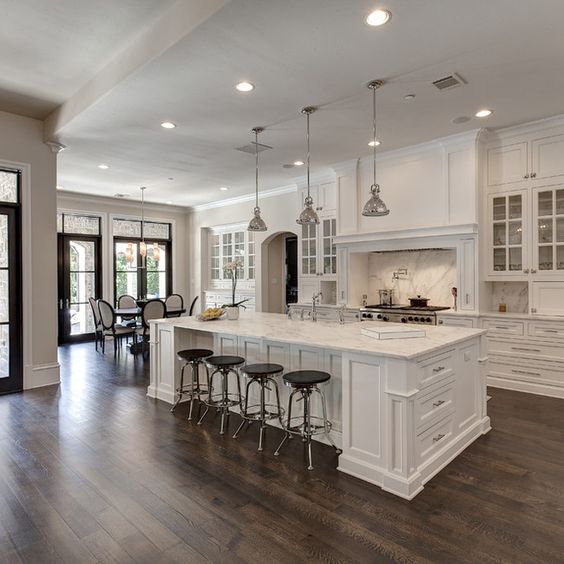 Photo credit:
Simmons Estate Homes
Modern recessed ceiling spotlights, such as the
Lisara
, which is available through
Lights.ie
are simply designed and give off a warm light with a GU10 Mercury-free light bulb included which has very low energy consumption and a lifespan of 30,000 hours – you could leave the light switched on for almost three-and-a-half years and it won't go out.
These classy-looking, yet very discreet, spotlights have a diameter of 7cms and can be slightly angled to point towards work surfaces rather than just face down on the floor.
You may need between four and ten of these in your kitchen depending on the size, but for a larger light, try the large ceiling recessed Lora light by Pullman, also available through Lights.ie
This larger 23 cm diameter light is metal framed and tops the table of energy efficiency, plus the lamp glass is evenly spread giving off a nice atmosphere in the kitchen.
The light takes two 15W bulbs and comes with a five-year warranty.
Of course kitchen spotlights aren't for everybody – while they do look neat and tidy, some people may want to make more of a dramatic feature of their kitchen lighting, especially if the kitchen is the main room in which they eat a meal.
Lighting over the kitchen table can be as big and bold as you want to go and there is nothing more contemporary than a retro-looking industrial aluminium light that makes a real statement, such as Original BTC's Titan range.
These striking pendant lights are based on a design which dates back to the 1940s – they would have been the kind of lights seen in industrial units and factories in the Second World War era. They come in a variety of colours but the natural aluminium will stand out against any backdrop, particularly with the imposing armour steel braided cable.
The shade is made from spun aluminium and will accept a high-wattage light bulb.
The Titan 3 model has a diameter of 45cms and the light has a drop of between 62cm and 178cm, perfect to get that light shining right where you want it.
These examples of recessed spotlights and feature lights come from each end of the kitchen light spectrum, but there are several others in between that might fit your particular taste
Tilted spotlights on a square plate or tilted spotlights on a circular plate give you flexibility to change around where you want your lighting to highlight. Rows of spotlights pointing in different directions and pleated wall lights can classy yet functional.
What's more, that main over-the-table light doesn't have to be a chunky pendant light, there are far more subtle ideas out there such as floating shelf lights which can add a sense of boutique chic to your kitchen and turn if from a cold-looking functional workroom to the sort of place you'll always find people at parties.