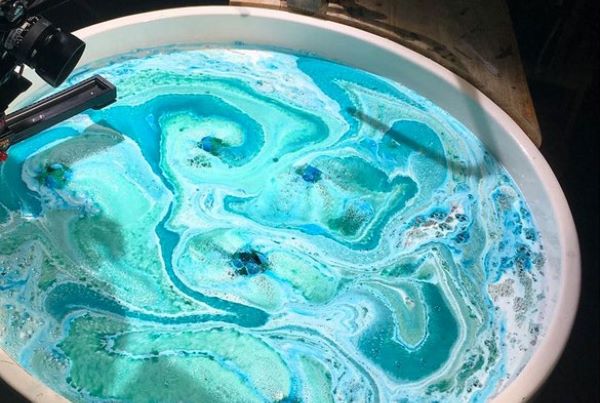 We can't help but wonder - is there any soap invention that Lush are yet to discover?
It seems as though they have pretty much done it all, from glitter soap to bath bombs that make your tub look like an actual unicorn.
However, the gorgeous folks as Lush have released a new type of bath bomb in recent weeks, and it will turn your water into proper jelly.
Intrigued? We were too.
As noted on Lush's website, the jelly bath bombs contain sodium alginate, which is derived from a seaweed (making it super good for your skin FYI).
When dropped into a bath filled with warm water, the sodium alginate is released, turning that bathwater into a goo-like substance.
After a good ole soak in the bath, your skin will supposedly be left totally silky smooth, thanks to the jelly bomb's softening affect - so wjat's not to love?
Currently, there are four types of the jelly-bomb available: Green Coconut (a green-and-white bomb with a tropical scent), Dark Arts (a grey-coloured bomb with a cinnamon flavour), The Big Sleep (turquoise in colour with hints of lavender), and Marmalade (a yellow-and-orange bomb that smells like citrus).
These gorgeous slimey bath bombs are available to purchase right now - so bathe away lovely ladies.