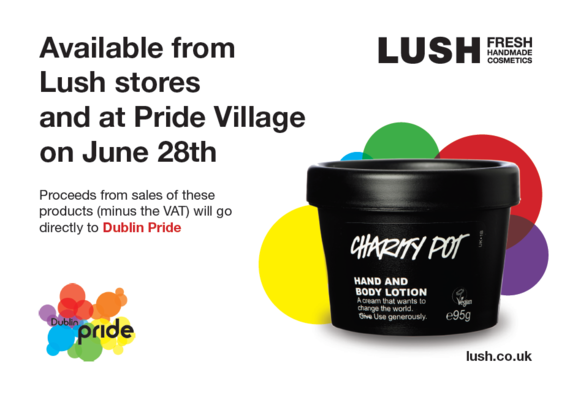 Following the huge success of last year's 'Sweet Smell of Equality' campaign, LUSH Dublin stores will once again be coming together with Dublin Pride to put their fragrant stamp on this year's #FREEDOM campaign.
To celebrate Dublin Pride on Saturday, 28th June, LUSH Fresh Handmade cosmetics will be selling their Charity Pot hand and body lotion with all proceeds from the sale going towards Dublin Pride. The funds raised will help fund the continued campaign for equality for same sex couples and the Dublin Pride festival.
The hand and body lotion will also be on sale on the LUSH stand within the Pride Village where they will also be holding various product-making workshops.
That's not all, from 20th - 29th June, LUSH Dublin stores will act as information centres for the 2014 #Freedom campaign. Shoppers and supporters will be able to learn all about the importance of marriage for same-sex couples and their families and find out how to register and vote in next year's referendum.
Last year LUSH collected over 3,000 signatures under their Marriage Equality petition and raised €2,600.