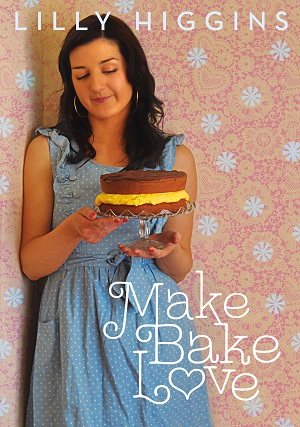 'Make Bake Love' is the first cookbook from Lilly Higgins and is a lovely collection of recipes that will have you almost smelling cakes, buns and pies in the air. This book contains all the classic baking recipes like Vanilla Cupcakes and Chocolate Fudge Cake along with new challenges for the avid cake-maker (her
Swan Meringue
and stunning
Coffee Cake
would both make an impressive addition to any dinner party.)
This book has a fantastic variety of recipes. Included are cakes and treats that would be ideal for a child's birthday party. Children (and adults of course) will adore the Rocky Road Brownies, Ice Cream Cone Cupcakes and S'mores Cakes. If you are hosting a more sophisticated event, Rhubarb Macaroons, Mini Black Forest Cakes and Citrus Tart are all ideal to serve to your guests.
There are also great recipes for breakfast/brunch such as Blueberry Muffins, Power Bars, Bagels and French Toast. If you enjoy making bread, then Lilly also has some delicious recipes including Spiced Sultana Bread and Guinness and Rye Bread.
What's really special about this book is that you can see Lilly's personality shine through the pages. Each photo was styled and taken by Lilly herself and they are stunning. Very few recipes are left without an image for you to drool over. She had her sister, well-known comedian Maeve Higgins, write a lovely forward and each recipe is given a witty introduction that often mentions family members and gives a real insight into Lilly's personality.
'Make Bake Love' is a must have for anyone who enjoys baking and includes all the favourites from her popular cookery blog 'Stuff I Make, Bake and Love'.
'Make Bake Love' by Lilly Higgins is published by Gill & Macmillan RRP €19.99.