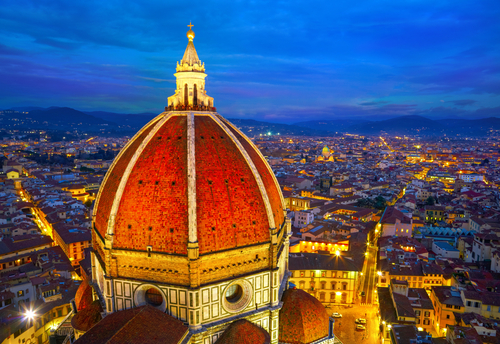 Paris has always been known as the City of Love, and while we would never turn down a romantic drip to the Capital of Love, it's time we introduced you to a new destination: Florence.
If you are planning on a loved-up getaway with your other half, or you fancy a Christmas break with a difference, this Italian city deserves your time and attention.
Here are six things to do in the wonderful city that will make your heart flutter and your romantic side explode!
1. Boboli Gardens, Pitti Palace
Stroll hand in hand past fountains and along the carefully manicured avenues of Pitti Palace's Boboli Gardens.
2. Tetro Goldoni, Via Santa Maria
Enjoy an evening at the theatre and embrace yourself in the city's enchanting music.
3. Parco delle Cascine
Grab a romantic picnic or rent a bike and take in the sites of the city as you pedal past.
4. Ponte Vecchio, Firenze
Lock your love on the Ponte Vecchio bridge and throw away the key - a tradition that has been done by Italians for years.
5. Uffizi Gallery, Piazzale degli Uffizi
Don't leave Florence without visiting the Uffizi gallery – you can spend the whole day walking around viewing the spectacular collection.
6. Vivanda, Via Santa Monica
Reminisce over a glass of wine at Florence's first 'enoteca' or wine repository – with a wine list of over 120 different labels from across the country and beyond, you'll no doubt be spoilt for choice..