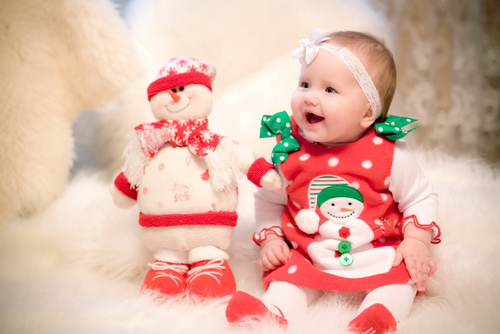 Your first Christmas with your baby will always be special, watching their eyes light up at all the lights and enjoying picking up gifts for them, but why not make it that extra special with these fun and easy tips
Personalised stocking
Pick your little one up a plain stocking and personalise it with their name and festive decorations. You can use a fabric marker or, if you want to be a little more creative, why not sew their name and a few beads on.
Trip to see Santa
Even if they aren't quite old enough to understand what is going on, take your little one to see Santa and soak in all the festive atmosphere. Don't forget to take a photo of your infant beside the man in red - this is the type of photo that you'll cherish forever.
Make your own decorations
Why not spend time making your very own decorations to commemorate baby's first Christmas. You can decorate your own baublés, or whatever tree hanging you like, or even design your very own advent calendar that you can take out year after year. Just have a little fun with it - it doesn't have to be a masterpiece or anything.
Bring them shopping with you
Shopping with kids can be a bit of a nightmare we know, but this year, to celebrate your baby's first Christmas, take them with you when you do go to pick up some gifts. Soak in the atmosphere, delight in their amazement at the lights and enjoy festive quality time together.
Create a family Christmas card
Involve the rest of your family and friends in celebrating baby's first Christmas by making an adorable festive-themed card with baby that you can send to loved ones. While it might seem a little cheesy, it is a really great way to share your joy and excitement, especially with people who live far away.
Start a new tradition
Whether you have your own traditions that you already do each year or not, starting a new one, be it baking cookies for Santa, posting the list or enjoying quality family time together, will make their first Christmas that extra bit special.