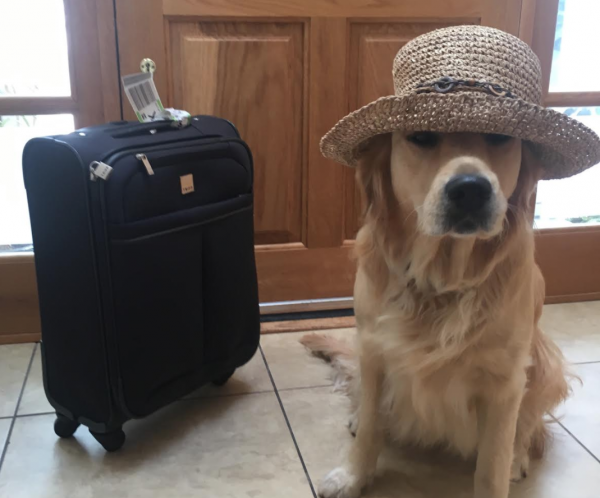 "Loyal, loving and slightly mad in all the right ways" is how Kate describes Ivy, a trainee assistant dog with the Irish Dogs for the Disabled.
Kate Durrant and PJ Lynch decided to foster a puppy after their own dog died.
"We were looking at getting a dog and a friend suggested we look at fostering. We phoned Dogs for the Disabled. They had two puppies left in the litter so we met Jennifer Dowler, the woman who owns the charity and she brought Ivy to us. It was love at first sight."
Ivy, a Golden Retriever, was born in The Dochas Centre at Mountjoy Prison. Her mother's name is Friday. At eight years old, Friday is now retired after giving birth to two litters of pups. Jasmine, Ivy's half sister, is also fostered by Kate and her family.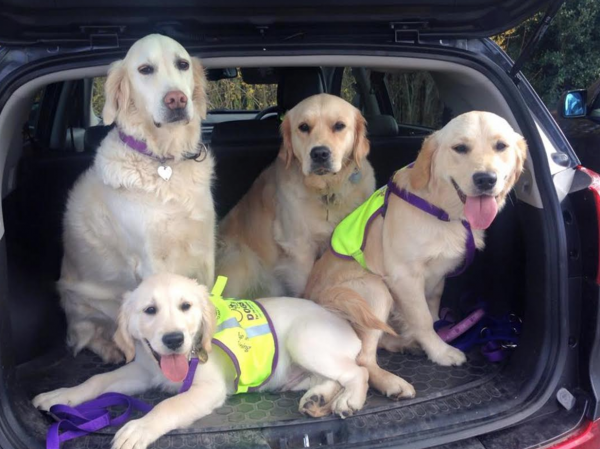 "A lot of the puppies are born in The Dochas centre. The ladies there have the puppies until they are eight weeks old which must be beautiful for them and for their children visiting too because rather than just seeing Mum in the prison, they get to see a puppy too. From the charity's viewpoint, the puppies are handled from the minute they are born so it makes them used to being touched. It makes them more loving and tactile, perhaps more than the average puppy would be. They stay in the women's prison until they are eight weeks old and then they go out to foster families."
Ivy moved to Blarney where her human mummy, Kate, recorded her adventures via a blog; "The Life of Ivy".
"It's been good because we've raised awareness for the charity whilst allowing me to post pictures of Ivy all the time. It's a lovely record for us of her time with us."
Ivy has had many adventures and is quite the celebrity.
"She's read from the pulpit of St Finbarr's cathedral. I'm a First Responder so she's been out on several First Responding calls. When you're walking around the village with Ivy, there are more people that know Ivy than us."
Kate explained the life a foster puppy has with a foster family.
"The lovely thing about Dogs for the Disabled is that the dogs have a really nice puppyhood. They have fun. We get them used to different sounds and different surfaces; going on the bus, going on the train; because every surface is different and so are noises; walking in traffic, going into a busy school or going to a concert. There's no training. It's just getting them used to living in the real world."
At twenty-one months old, Ivy left her foster family on 7 June 2017. The charity, Dogs for the Disabled, will now assess Ivy's abilities and match Ivy to a suitable child who is waiting for an assistance dog.
"She'll go to Shelton Abbey. They have trained the inmates to train the dogs. It works ethically because it's giving the inmates skills, perhaps, that they didn't have before and they're also helping society in a very tangible way."
"They'll have a good idea of which child she is right for. Our dogs are stability and task dogs. There are children on the waiting list with spina bifida, cerebral palsy, some children need task dogs to help pick things up for them or to help alert people. One child sent back her motorised wheelchair last week. If they can get the dog to the children in the time before their muscles atrophy, it's not only that they will help them walk, they will keep them walking long term. It strengthens the muscles so if you can get to them before they become completely wheel chair bound, their lives will change completely."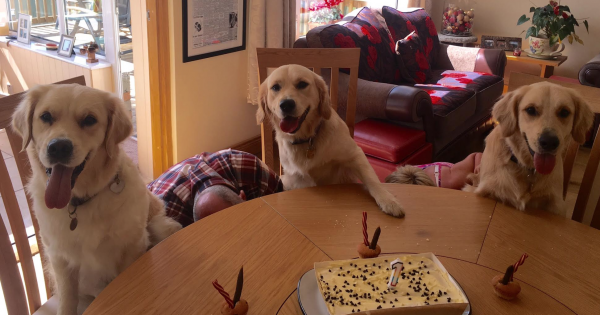 "Love" says Kate, is the main gain earned from fostering a puppy.
"It fills the gap that is left when your children leave home and grow up."
"I never thought we would be the kind of people that would be saying 'Mammy' and 'Daddy' to the dogs. I always felt that was really strange. When your own kids are gone, they become like children to you."
"We love her to bits but she is only a part of our lives. The person she is going to, she is going to be their whole life. We get satisfaction being a very small part of what's just a lovely story."
Kate explained why a dog like Ivy is so important.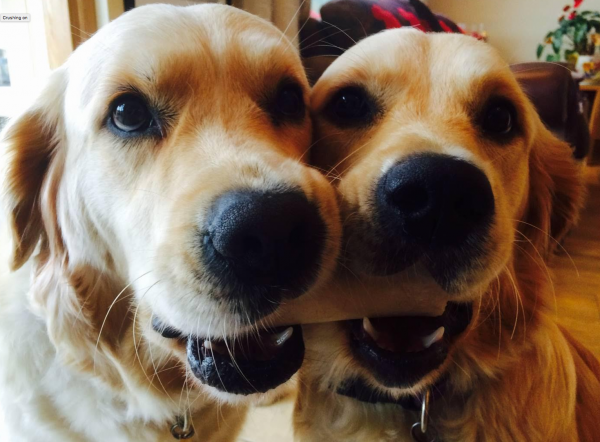 "When you are disabled, life can be quite isolating. You go from being the child in the classroom who has a disability to the child with the dog. They are a great leveller because life is so unfair. Maybe they are a little bit of equality in a world that is far from equal."
Update:
Ivy sends regular updates from Shelton Abbey to her doggy friend, Jasmine (also fostered by Kate and PJ). These updates can be found on Facebook @lifeofivy
Dogs for the Disabled were sorry to announce that they had to close their waiting list to new applicants due to an overwhelming amount of applications. The charity will review the reopening of its waiting list again in January 2018.
To learn more about the charity, visit;
If you would like to donate to the charity, visit;