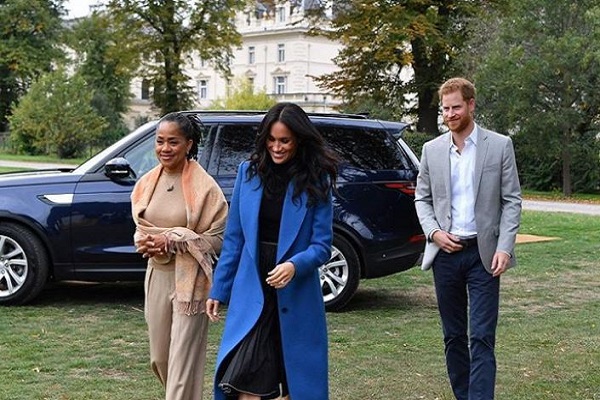 Meghan Markle was joined by her nearest and dearest for a special party at Kensington Palace. The Duchess of Sussex held a lunch in honour of the cookbook she is supporting.
Meghan has collaborated with the victims of the Grenfell tower fire to publish the cookbook Together: Our Community Cookbook.
The Duchess was joined by her husband Prince Harry and her mum Doria Ragland on the momentous occasion.
For the first time since the wedding, Meghan's mum Doria Ragland is joining her and Harry on an official engagement. The Duchess of Sussex is launching the cookbook with the women of #Grenfell pic.twitter.com/80pWGxNHw3

— Chris Ship (@chrisshipitv) September 20, 2018
Meghan thanked the women of the Hubb Community Kitchen in a moving and eloquent speech during the lunch. The powerful moment was captured on film by ITV News Royal Editor Chris Ship.
She praised the women and their work, "We can see in a few days alone what you've been able to do. That's a testament to what this means to people and I'm so proud of you."
The menu for Meghan Markle's special lunch at Kensington Palace to promote the 'Together' cookbook with the women from the Grenfell Tower Hubb community kitchen pic.twitter.com/lZPHBoZtAH

— Simon Perry (@SPerryPeoplemag) September 20, 2018
Meghan explained that Together: Our Community Cookbook is more than just a cookbook. The stories and history of the food help you get to know the person behind it.
The Duchess added that the ethos of Together is about celebrating what connects us rather than what divides us.
The Duke and Duchess of Sussex and Ms. Doria Ragland are today celebrating the launch of 'Together: Our Community Cookbook' with the women of the Hubb Community Kitchen #CookTogether pic.twitter.com/MRGFjNJxM6

— Kensington Palace (@KensingtonRoyal) September 20, 2018

"Working on this project for the past nine months has been a tremendous labour of love. I had just recently moved to London and I felt so immediately embraced by the women of Hubb kitchen."
"On a personal level, I feel proud to live in a city that has so much diversity."
If you wanted an image which best describes how Meghan, Duchess of Sussex is changing the face of the British Royal Family, I say this one does it ... pic.twitter.com/dQRLsPOO2i

— Chris Ship (@chrisshipitv) September 20, 2018

"I'm so privileged to know you. I'm so excited to see the projects you're going to continue to do in your own community, and how you're going to inspire people globally by sharing your stories and your recipes," the Duchess added.