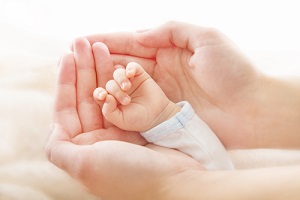 A woman has spoken of her joy after giving birth to a baby by using a new 'gluing' technique.
Emma Ryley, 43, from Milton Keynes in Britain, had been trying to start a family with her husband, Paul, for 15 years before trying out the new practice.
The couple opted to try the technique, in which embryos are dipped in a special glue, before being replaced back in the womb during IVF treatment.
To Emma and Paul's surprise and delight, their first son, Ethan, was born, after over a decade of trying to conceive.
Describing little Ethan as their "miracle baby", Emma told the Mail Online that she couldn't be happier.
"We'd had so many years of heartbreak, but now we finally had our miracle baby – and it was all thanks to a tub of glue," she said, adding, "It seemed a strange concept for him to be glued into my womb, but it certainly worked."
Speaking of the moment she finally got to hold her son, Emma said: "It was the most emotional moment when I finally held Ethan in my arms, and I knew I was a mum at last."

What an amazing story. Congratulations to the delighted parents.