Mrs Hinch has shared an insight into her family trip with her husband, Jamie, and their sons, Ron and Lennie.
The family-of-four headed to the much-loved Centre Parcs and has opened up about how they got on for the few days they were away, and revealed what her son did to make her 'so proud'.
Judging by the cleaning influencer's photos and stories from the resort, we want to pack our bags and experience it for ourselves!
Taking to her Instagram Stories earlier today to answer fans' questions about her trip, Mrs Hinch explained, "One of the things I love about Centre Parcs is that even if it's raining you can head back into the plaza and book some fun messy play, craft or sensory classes for little ones".
"Or play table tennis, do wall climbing or squash for the older ones. Also the swimming is open until late so we spent ALOT of time in there"
The 33-year-old admitted, "I definitely prefer Centre Parcs in the warmer months purely because I love to be outside and the indoor activities get booked up so quickly when it's raining so always book in advance if you can".
Sophie then went on to share her favourite element of the resort, but revealed her three-year-old, Ron, was a bit frightened before he came around to the idea.
"I have to say the electric boat ride…The boys loved it. Ron had a little panic before we got on, but once I managed to settle him he realised it was ok… he absolutely loved it".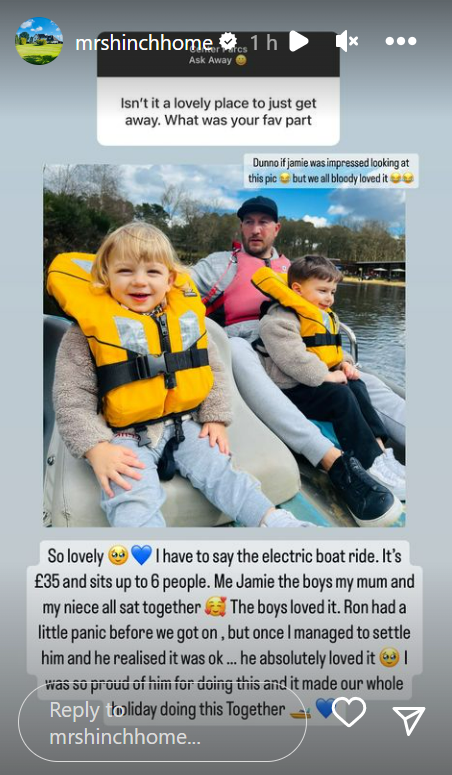 She continued, "I was so proud of him for doing this and it made our whole family holiday doing this together".
Posting more snaps to her 4.7M Instagram followers, the mum-of-penned, "Sorry for the radio silence over the last few days, I really needed to get up and just get away… with our family, anywhere with fresh air, wildlife and activities to keep my mind busy and my family smiling".
Mrs Hinch added, "So we did exactly that. What an incredible amazing weekend spent together. Messy play, soft play, boat rides, zip lining, wall climbing, swimming and watching the wildlife. I feel so blessed to have my family by my side and so grateful that I get to do this for us".