Mrs Hinch has taken a trip down memory lane as she returned back to where she had her first ever job.
The cleaning expert, who has racked up an impressive 4.6M Instagram followers from her cleaning tips and hacks on social media, revealed her first job was as a 'pot wash' in a pub.
Reflecting back on her days in the pub's kitchen, Sophie shared a disastrous but funny story from all those years ago that ended up with her leaving the job!
Posting a photo from outside the pub to her Instagram Stories, the mum-of-two wrote, "Memories. This pub was my first ever job. I worked out the back as a "pot wash" washing the dishes and cleaning the sink for hours".
"I loved it!", Sophie continued before detailing her work blunder. "Until I was asked to waitress for one day and dropped cod chips and peas all over a lady's lap".
"That was the end of that", she added with a laughing emoji.
Mrs Hinch is now known for sharing her cleaning tips online and has gone on to release many books including, Hinch Yourself Happy, This is Me and The Little Book of Lists.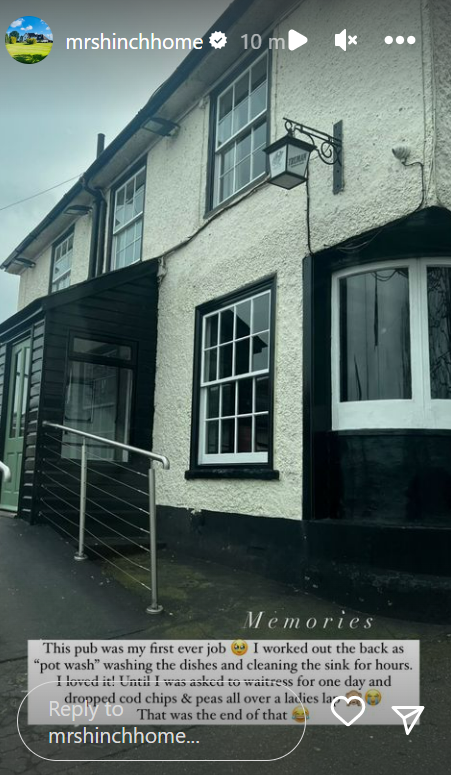 The 33-year-old also released her first children's book, Welcome to Hinch Farm, earlier this year which is based on her life with her family as they move to a new home.
Sophie has also teamed up with brands such as F&F, Flash and Lenor to release her own line in their ranges.
Sophie tied the knot to her husband Jamie Hinchliffe in August 2018 and went on to welcome two boys into the world. Ronnie was born in 2019 and his little brother Lennie came along in 2021.