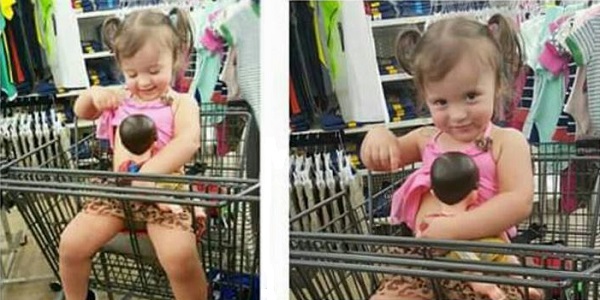 For some reason, there is still a major debate surrounding breastfeeding, and it's even trickling down to criticism of our children's engagement with the concept of nursing.
This has been proven in the story of a US mum, who received hateful backlash for posting a sweet photo of her two-year-old daughter 'breastfeeding' her doll.
The mum in question originally posted the adorable image to Facebook, writing: "You know you're a breastfeeding mother when you look over in the middle of the store to your toddler saying 'Baby cry, Baby just wants to eat'".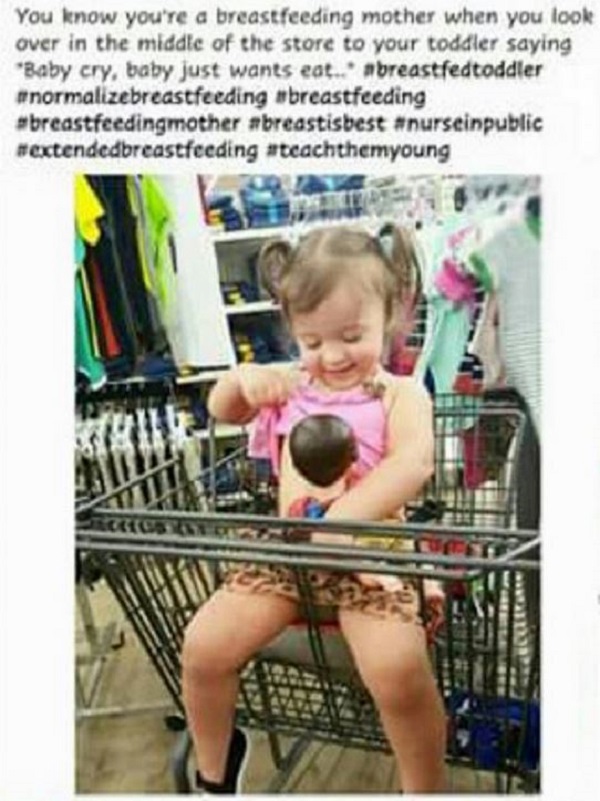 While the post seemed harmless enough to her, friends later alerted the mother to a troll's post using and commenting on the image of little Charlotte.
A screenshot of the troll's post, featuring little Charlotte and her doll, read: "I just saw some of the nastiest s*** of my life! If you're okay with your daughter lifting up her shirt and putting her baby doll's mouth to her little 'dots' pretending to breastfeed, then I personally think you need [to be] punched in the face!! It's just simply not okay! Arguments welcome. I'm willing to shut y'all down today."
As you can imagine, Charlotte's mum was horrified and upset to see her sweet image condemned in such a manner, and she took to the Breastfeeding Mama Talk page to share her reaction.
Admitting that she had been 'blown away' by the troll's post, she wrote: "I would LOVE to know how it is 'the nastiest s*** of her life'... Breastfeeding is something that is natural and IS normal. A baby putting a bottle to its doll's mouth - they are feeding their baby doll, correct? There's no difference. I do not feel the need to correct Charlotte…She said her baby wanted to eat, so she fed her. Charlotte says she wants to eat, in public or not, I nurse."
With her confidence wavering, the Facebook community rallied around her to send messages of support. Indeed, many fellow mums shared adorable photos of their own tots 'nursing' their teddies and dolls.
"Don't correct her at all. Like you said, her baby was hungry, she fed her baby. Absolutely nothing wrong with that!" advised one mum, sharing a photo of her son 'nursing' his giraffe!
SHARE to show your support for this mum's stance on breastfeeding and children.