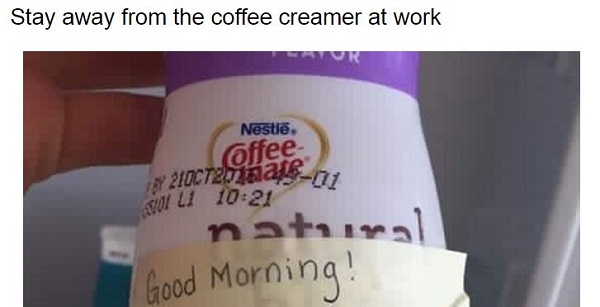 It's likely that you have all been the victim of a workplace fridge robbery at one time, whether it's your specially selected pastry or your Tupperware container. However, the following story serves as a warning to those tempted to steal from a colleague's lunchbox!
A mum has exacted the perfect revenge on the workplace thief who kept stealing her coffee creamer milk – by revealing that it was actually her breastmilk!
'Phantom0591' took to Reddit to upload a photo of the note she left the milk thief, reading: "Good morning! To whomever has been enjoying my coffee creamer all week….Surprise!!! You've been drinking my BREAST MILK. Hope you've enjoyed. Cheers! P.S. It's organic, so no worries."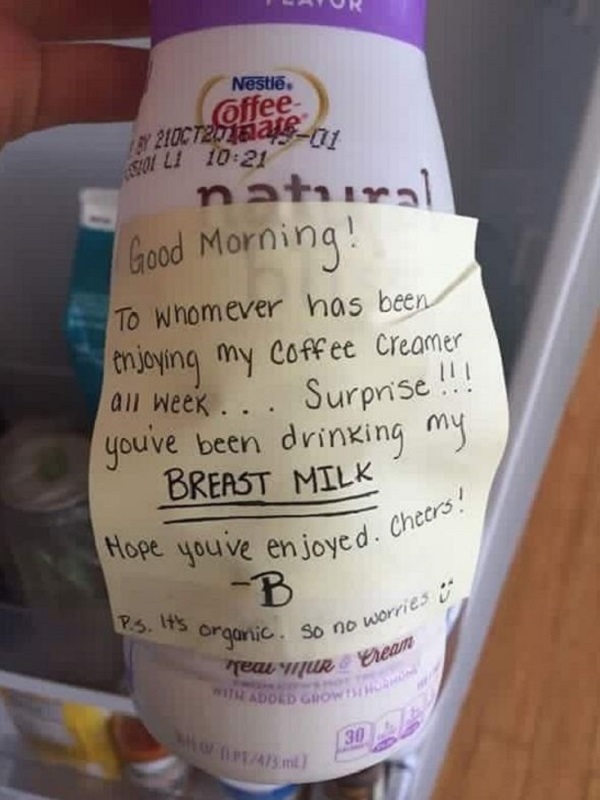 The hilarious photo was shared to the ever-popular Breastfeeding Mama Talk Facebook page, with admin calling out all those criticising the tongue-in-cheek post.
"I love the people who get upset at stuff like this, saying it was wrong of the breastfeeding mum to mislead people at what it is. Hahaha, how about don't eat or drink other people's stuff without asking?!" they wrote.
We couldn't agree more!
We bet that milk thief has well and truly learned their lesson.
SHARE to give a fellow mum a good giggle today.