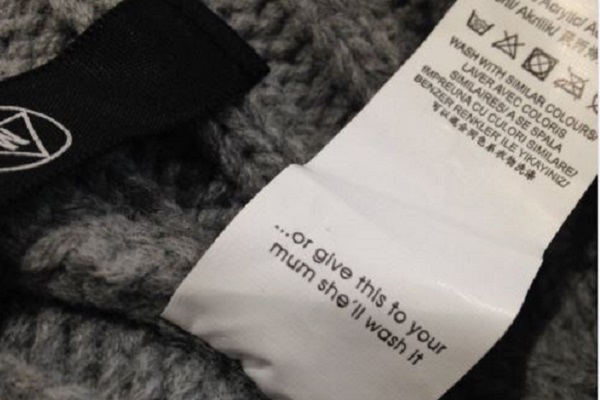 One mum was horrified by the washing directions that were attached to her daughter's hat. Taking to Twitter, Sian Robson, expressed her anger over the instructions which said, "or give this to your mum she'll wash it," under the regular washing directions.
Sian tweeted, "#everydaysexism Maybe it's just possible Dad is capable of putting on a wash too!?"
She shared, "My daughter told me to look at the washing instructions in her hat because they are awful."
She believed that the company were being extremely old-fashioned by saying only mums can do the washing up.
#everydaysexism @Missguided Maybe it's just possible Dad is capable of putting on a wash too!? pic.twitter.com/TgCXM8giqr

— sian robson (@sianrobson) January 3, 2018
The mum failed to see the funny side of the label, she told The Sun, "It's not something you would expect to see. I know they're trying to be funny but it's a bit naff."
The mum explained that her main issue with the label is the fact that it may upset people who have lost their mum.
Following her tweet, numerous people wrote to Sian with clashing views. They felt like she was taking it too far.
This is so silly it is obviously a joke there is no reason to get so offended about it...

— David Støvring (@VulcaNN_CSGO) January 7, 2018
This is why some people don't take sexism seriously. When people trivialize the issue by getting upset about a little bit of humour.

— Iseecrazypeople (@AntiLiberalAus) January 7, 2018
One user wrote, "If this is the only problem in your life then it's safe to say you've got it pretty easy."
Another asked, "Doesn't anyone have a sense of humour anymore?"
"Maybe a few more dads will wash this compared to mums changing the tires on the car. Each of us have different duties," another explained.
"Have we got to the stage where we can't joke about anything anymore?" said one user.
What do you think mums? Is this label sexist? Or is it just a bit of fun?